On 11 – 13 November 2013 I had a chance to attend O'Reilly Strata Data Conference in London and would like to share my impressions with you.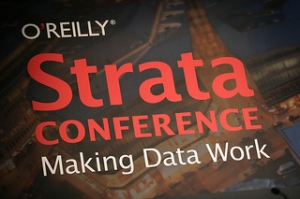 Strata Data is the world's biggest event dedicated specifically to Data Science that every year gathers computer scientists, analysts, corporate CEOs and software developers from all over the world. The conference focuses on big data storage, processing and visualization. One of the key topics widely discussed this year was Hadoop, a famous open source framework for storage and large-scale processing of data sets on commodity hardware clusters. In particular, Hadoop specialists shared their best practices of using different approaches for solving big data issues in medicine, sociology, economics and manufacturing.
At Intersog I've recently been involved in a new mobile app development project where my tasks include text data processing and semantic analysis in particular. Since it's a new area for me, attending the conference was really very useful. Recently, I've learned few new programming languages, libraries and tools that would allow me to become a good big data scientist with a broad IT outlook, knowledge of math statistics methods and big data trends and accomplishments as well as an ability to use various methods for big data issues resolution. I also take some online Coursega courses in machine learning and data science to better understand math realization of different algorithms, but attending the conference gave me a very precious experience whatsoever.
Check out a related article:
Speaking about presentations that impressed me most, I liked Francesco D'Orazio's report on "How Stuff Spreads" in which he gathered twitter stats on mentions of 5 popular online videos, and compared their audiences in terms of demographics, geography, average number of connections, social media channels, etc. Having analyzed how network structure affects data distribution, Francesco provided us with some tips on how to best reach our target audiences.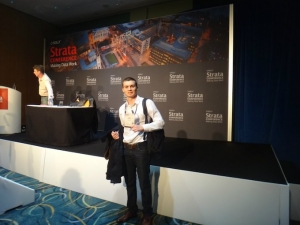 In her report called "Human Progress: D3.js and a responsive design show how we're getting better all the time " Maggie Lubberts told us about the use of D3.js library and backbone for data visualization.
In her presentation on "Communicating Data Clearly" Naomi Robbins told about how people perceive graphical data. She used real-life examples to show common data visualization mistakes and gave some useful pieces of advice on how to avoid them. She also shared innovative data display methods, compared several graphs showing the same data and suggested which graph should be better used in different situations.
To sum up, the conference made a very positive impression on me. I attended an event of this type and level for the first time in my life and was impressed with how well everything was organized. I liked the conference app with a detailed agenda and a map that didn't let me get lost. I also talked to several interesting people, checked out what leading big app development companies showcased in the exhibition hall and found out what innovative methods and technologies they use to solve their big data issues.
You may view conference pictures on Flickr.