I've recently attended Ukraine's biggest IT Outsourcing (ITO) conference and here's my recap of the main highlights regarding future development of the industry:
1. As of end of 2013, Ukrainian mobile app development outsourcing industry's turnover is over $2 billion per annum and the industry is growing 30% to 50% on a year-on-year (YoY) basis.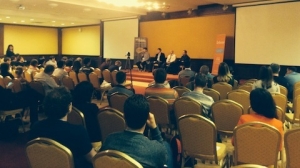 2. All major big cities including Kyiv, Lviv, Odessa, Kharkiv, etc have developed own IT clusters. However, these clusters are focused on local ITO development rather than consolidating into an All-Ukrainian driving force to boost the country's ITO industry.
Check out a related article:
3. Some Ukrainian IT opinion leaders including Roman Khmil are very optimistic about Bionic Hill, Ukraine's first innovation park to be built up in the months to come in the outskirts of Kyiv and funded from the state budget. Bionic Hill plans to invest $100K into software development of its own IT university to help supply Ukrainian ITO with more qualified specialists to meet the rapidly growing needs of foreign customers aiming to leverage Ukraine's tech talent pool.
4. IT market consolidation at the national level is required to prevent brain drain (every year Ukraine loses up to 5,000 IT employees who relocate / emigrate abroad), initiate a dialogue between IT clusters and  government with regards to reforming current IT legislation in favor of operational and pricing transparency, direct hire of employees (currently, more than 90% of all employees involved in ITO work on a so-called private entrepreneur model), public monitoring of state audits of ITO service providers, etc.
5. This year, Ukrainian government has passed a draft law on the realization of the National Technopolis Project that aims to:
move ITO market out of the shadow and set fair play rules,
increase the number of foreign companies' R&D centers,
prevent brain drain from Ukrainian IT,
help develop national software products market,
help upgrade and innovate Ukrainian enterprises,
compensate VAT on imported hardware, etc
6.  Right now, small ITO service providers have difficulties finding sufficient development resources. Mid-sized and large organizations don't face this issue and boast being able to find and recruit any type of tech skill needed for software development outsourcing: their average vacancy closure time is 45 days. This is explained by the fact that bigger companies are able to better attract software developers with high salary offerings that small companies can't afford.
These initiatives are likely to contribute to a more rapid development of the Ukrainian ITO industry on a YoY basis and convert Ukraine into true Eastern European Silicon Valley in a few years from now. Do you also believe so?
P.S. You may find more highlights from the conference in my report for the German Outsourcing Association.
Check out a related article: