HTML5 is set to become the foundation of today's mobile gaming era and significantly boost iGaming industry in the future. The HTML5 markup language has been progressing at a very fast pace lately and has gained recognition and popularity within the global game development community. All modern smartphones are able to take full advantage of the HTML5 graphic and interactive capabilities. All latest browsers run HTML5 games easily without requiring any special plug-ins or extra software. So, if you're really looking out to create a big hit mobile game for the mass audience, you should consider using HTML5 to enjoy the following benefits:
Full control of your mobile game
If you need to update your game for any reason, you can do it quickly without having to re-submit it to different app stores. Once you deploy your change, users will be able to play the most up-to-date version straight away. HTML5 game development allows very fast prototyping, wide support of browsers, mobile devices and social media apps and access to open source and free development tools. Also, HTML5 games are very easy to debug.
Better advertising
Based on user feedback, ads can be displayed within or around the game to help maximize the revenue.
Better social interaction
HTML5 games are very engaging, as they can be shared online very quickly and easily with just a link. Gamers don't need to install anything to play such games and can feature them on their own websites or in online gamer communities. This automatically increases its overall outreach to the gaming audience. If you want your new game to go viral fast – do consider building it with HTML5!
Access to cool new features for making great mobile games and UX
HTML5 Canvas, Audio, and Video elements enable these features in a game and, combined with other Open Web Platform technologies and tools, take plugin-free gaming to an ultimately new level.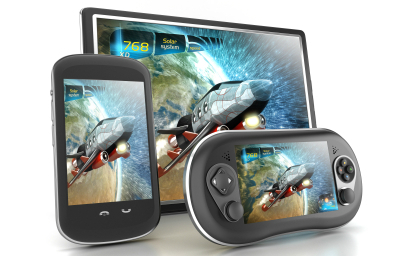 As a gaming industry expert, Intersog fully confirms the rapidly growing needs for web based gaming within the global gamer community. Market intelligence company IDC supports this statement by predicting the gamers will spend more money on mobile games than on handheld games by the end of 2013. Smartphones provide a very easy access to games which proves HTML5 game development to be a very interesting solution for both publishers and developers. You want to play games with your friends or online strangers, and, thus, don't want your game access to be limited to any devices, do you? Cross-platform app development is a great feature of HTML5 that allows building games for touch-screens as well as PCs making everyone happy. While still in its infancy, HTML5 technology is expected to become a stable mobile game development standard that businesses and developers will plan around in the upcoming months. Additionally, HTML5 is able to anchor a low-cost smartphone economy. What is needed today is a stream of high quality HTML5 games and other mobile products to increase general awareness about HTML5 development benefits within the global business community and prove appropriate ROI. Using our HTML5 game development expertise, you'll have a great opportunity to pioneer innovative mobile products to the market and gain a sufficient niche market share while your competitors are focused on native development.