Intersog, a leading tech consulting and software engineering firm based in Chicago, was recently featured in MobileAppDaily's list of the top-fifteen IoT development companies 2020 (updated in July).
Based on an assessment of the quality of work and market presence, Intersog and other companies in the list were selected for their excellence in helping businesses develop enterprise connected systems, automate processes and improve service delivery. The Intersog team is proud to be featured by MobileAppDaily for the second year in a row. This recognition reinforces Intersog's reputation as one of the most attractive global IoT software developers to partner with.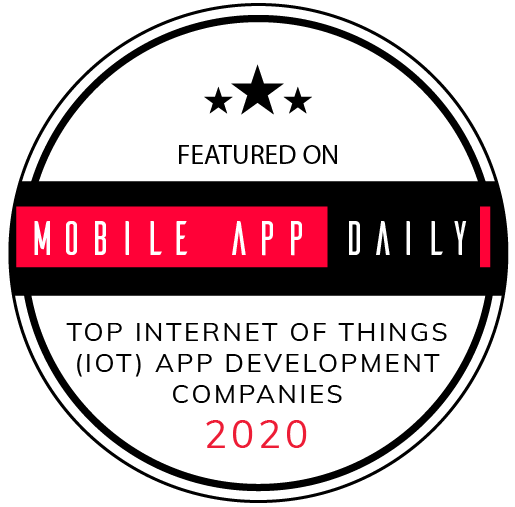 IoT technology
IoT, or the Internet of Things is an emerging technology that connects various devices via the Internet to allow people/businesses to have instant interactions with anyone around the world. It deals with large amounts of data (Big data) and numerous connected devices (ranging from computers, smartphones, wearables, cameras to manufacturing robots, car sensors and much more) to provide users with accurate and timely information. Thanks to these IoT connectivity capabilities, businesses can interact with prospects, gather customer data and make informed decisions.
Check out a related article:
The development of IoT applications involves the use of strong technical skills and knowledge of low- and high-level programming languages like C++, Assembly, JavaScript, Python, Java. IoT development comes together with related technologies such as mobile, cloud computing, cybersecurity, AI and machine learning, Big data, and more.
About Intersog
For over 14 years, Intersog has been investing in R&D, IT outsourcing, and talent acquisition to increase the quality and size of its development teams. Today our global team counts more than 250 tech professionals located in the United States, Canada, Mexico, Ukraine, and Israel. We build custom software and provide top tech talent for hire. Clients from retail, healthcare, education, finance, and other industries come to us for help executing their tech projects, using Intersog's tech expertise and developers. Contact our sales to learn about how Intersog can help you.