Following up on our January post about the Global Programming Languages Ranking 2015 vs 2014, we're adding some fresh data from the recent Ukrainian Programming Languages research done by DOU, Ukraine's largest online IT community. Within the research DOU polled nearly 6,000 software developers, of whom 92.5% reside in Ukraine.
Read about mobile app development.
The key highlights are:
In 2015, Java keeps topping the list of the most popular programming languages in Ukraine (no change from last year)
Swift and Go are now in Top 20 most used languages
JavaScript has improved its position by sliding up from the 5th to the 4th spot in the ranking and gets recognition as the best auxiliary language.
Fig. 1: Language share in Ukrainian software development 2015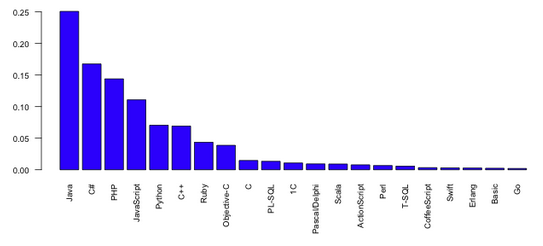 Check out a related article:
Top 5 languages Ukrainian programmers currently use in their work are: Java, C#, PHP, JavaScript and Python.
Fig. 2: Language share change, year over year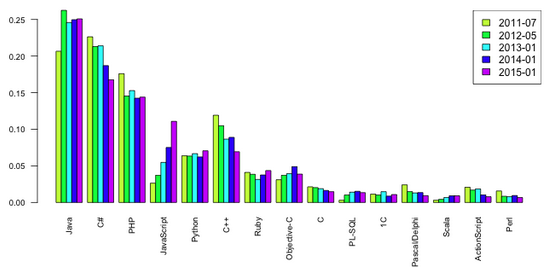 As seen from Fig. 2, the shares of JavaScript, C++, C# and Objective-C have seen the biggest changes since last year. This year, we also observe an increased interest in Ruby development, and the slow-down of Scala evolution. Since Ukrainian IT industry is mostly exports oriented, the latter can be explained with a small number of Scala projects outsourced to Ukraine, compared to other technologies.
Had Ukrainian software developers a freedom of programming language choice for their projects, the vast majority would choose Java, C#, JavaScript, Python and only then - PHP, which slightly contradicts with customer requests (as shown in Fig. 1)
Fig. 3: Programming language preferences by developers, year over year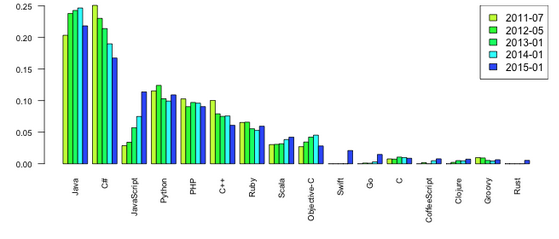 Java and C# are still ahead of the curve, although the share of people that would choose Java for their development project has decreased from 2014. Swift's growth from 0 to almost 5% is pretty notable as well as Go that has finally found its niche in 2015. On the other hand, always viewed as a promising alternative to C++ for system programming, Rust didn't make it to Top 15 this year despite expectations.
Check out a related article:
Fig. 4: Developer satisfaction with programming languages
Ukrainian developers were also asked to evaluate their satisfaction with programming languages in terms of their user friendliness in a particular ecosystem. Swift is the indisputable leader here, followed by C#, Scala, Ruby and Python.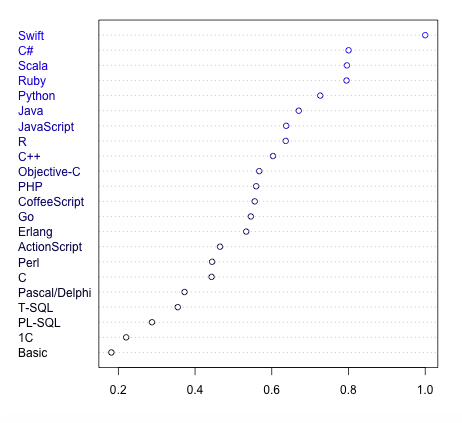 Fig. 5: Most popular auxiliary languages
Asked what languages they use as the auxiliary ones, the prevailing majority of Ukrainian developers pointed to JavaScript.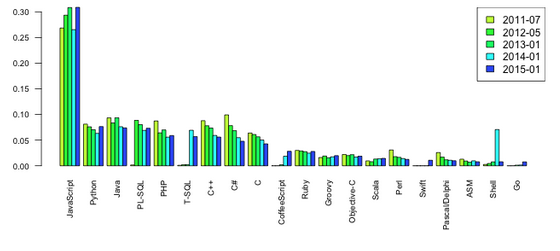 Are you curious about what Swift means for iOS developer career? Check out this post.
And what language do you use for building your product?
Source: DOU, 2015