Top Market Influencer
GoodFirms names Intersog as a Top 20 IT Services firm and market influencer through their Leaders Matrix evaluation.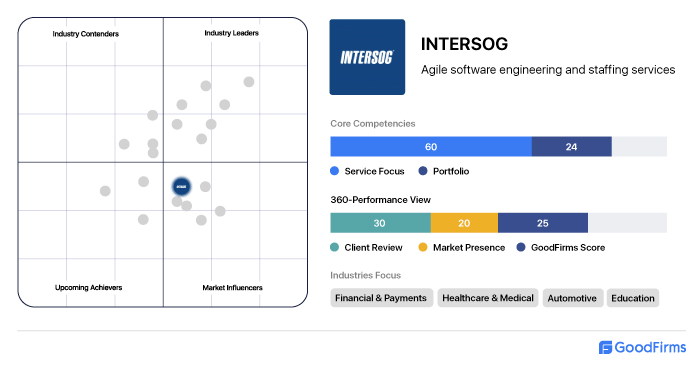 Intersog underwent a rigorous assessment under GoodFirms' Leaders Matrix program covering the service landscape, verified client reviews, experience in the domain, market, competitive positioning, and much more. The evaluation helped reveal in-depth information about Intersog's capabilities, competitive differentiation, and market position. The research methodology was highly analytic. The results were derived from the company's core competencies and a 360-degree performance view.
"We believe Intersog's positioning in the Leaders Matrix report reflects the company's expertise in delivering custom software development and IT staffing services that enables its clients to seamlessly operate, enhance their productivity, and boost profits leaving all their limitations behind".

GoodFirms
About GoodFirms' Leaders Matrix
Check out a related article:
The Leaders Matrix is a well-known fact-based research process where GoodFirms evaluates leading companies in various B2B categories. The participating companies in each category are assessed through the Company Performance Algorithm based on two main criteria: Core Competencies and 360-Performance View. It is a method of positioning top service providers within a specific market.
To qualify as the top leader in the IT domain, the nominees must possess an outstanding experience in the technology services market, deliver quality services, and have a vast clientele with positive feedback.
Best Company to Work With
With the support of its versatile team of skilled professionals and a customer-centric approach, Intersog feels proud to have earned numerous satisfied and loyal customers. GoodFirms recently recognized Intersog as the "Best company to work with" in 2022.

Suppose you are looking for a top developer for your mobile or web projects. In that case, Intersog is a trusted partner for you, endorsed by GoodFirms Leaders Matrix. Intersog's core competence lies in customer satisfaction. Since its inception in 2005, the company has focused on top-quality deliverables and out-of-box approaches to satisfy customer needs.
About the "Best Company to Work With" Badge
"Best company to work with" is an exclusive program run by GoodFirms where the Leaders Matrix companies get recognized with a badge, blog article, and social media campaign. Such recognition stands as a support to developing trust and authenticity within the B2B IT community. The program also enables the nominees to improve their ranking in the Leaders Matrix categories and receive inbound backlinks from GoodFirms' LeadersRoundtable podcast.
Check out a related article:
Intersog - Vision, Strength & Scope
In over 16 years of its existence, Intersog has maintained its reputation as a trusted technology partner for businesses. It has earned numerous satisfied clients by building next-generation software solutions for businesses of all sizes, from growing startups to Fortune 500 companies, including Mitsubishi, Bosch, Tesla, and CDW.
With its headquarters in Chicago and offices in Canada, Mexico, Ukraine, and Israel, Intersog offers broad-spectrum software development services covering mobile, web, artificial intelligence, blockchain, and other technology domains. Moreover, the company is further focusing on IT staffing and team placement services, helping businesses eliminate hiring hassles and get proficient developers and teams faster.
About GoodFirms
GoodFirms.co is a B2B research, review, and listing platform helping businesses accelerate their digital journey and maximize the value of modern technology. The company connects service providers with service seekers through a comprehensive and thoroughly researched fact-based list of the best services and solutions. Recognized as the most reliable source for the B2B market, GoodFirms has world-class experience with partners across the globe.