Are you looking for the best team for your video game development? If your answer is yes, then you should consider adopting some of the latest development approaches that bring results. Scrum has been a hit recently - a better way of building things. 
It seems that sooner or later, most project management practices of developing software are going towards Scrum. So, what is Scrum and how its appliance would be beneficial for your development process?
All You Need to Know About Scrum
Scrum is an agile process that focuses on delivering valuable results, with an emphasis on teamwork and accountability. Usually, the Scrum team size includes 5 to 9 experts who are working on a project together. The Scrum method has a product owner, Scrum master and development team.
Check out a related article:
Scrum teams differ from regular units because of the high level of communication among them and the setting of tasks, jso that they are done within a short period. The Scrum projects consist of sprints that last from 2 to 4 weeks. At the sprint planning meeting at the beginning, the team members decide on the number of product backlog items that can be developed in a sprint. The elements create the sprint backlog, and after each sprint, there is a sprint review. There are also sprint retrospective meetings to think about the good and bad sides of each sprint.
Also, the actual managers and leaders within this type of project management are called Scrum masters. The Scrum master doesn't set the rules, but on the contrary, does their best to motivate and inspire the team members. They are part of the team, and not above it. Scrum masters do daily or weekly reviews on the work with the team and do the necessary changes of the project.
Therefore, we can say that the Scrum framework is all about following specific principles, so the team can:
Obtain a particular goal and provide better results,
Continuously improve due to daily Scrum meeting with the team members,
Show respect to each other, as a result of adherence to the rules and norms and following a shared vision and purpose,
Easily and quickly identify potential problems,
Focus on the deliverables and process of production,
Leave no space for errors, or quickly correct them,
Fun in the process of creation and complementation of each other's skills.
So, by following the Scrum guide, you can adopt the Scrum team best practices for video game development.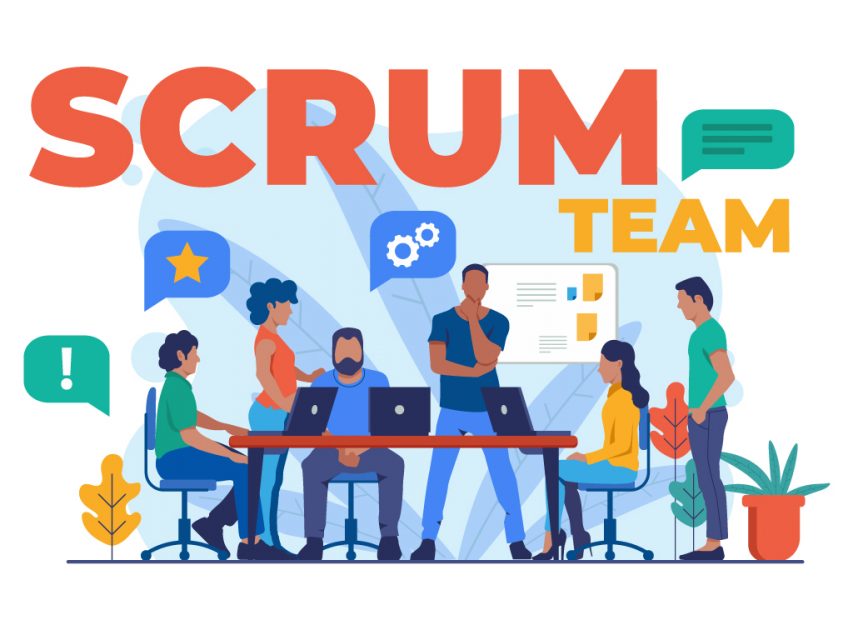 Why Scrum for Video Game Development?
When we mention Scrum or agile development, it's all about the reassessment of plans and creating iterative phases of work. This type of work is very commonly applied in software development and video game development projects. The reason for it is the flexible approach that minimizes the chances for making mistakes. This way the team can keep up with the changes on the market and adapt the product they are building to what is required by the target audience. It's also quite easy to repurpose certain features if they don't fit in the project. It is a better option than actually building a product that wouldn't function as it should.
For instance, the video game industry is worth $ 4.5 billion in 2020, and it's expected to grow even further. Also, the trends within this industry are fluctuating. So, when building indie games, you should have in mind the requirements in the gaming industry. Or, better yet, if you have started creating a mobile game in 2018, by 2020 there will be new features that you should incorporate. In this case, relying on agile development and Scrum teams will work. You can add the elements along the way and not proclaim the whole project a failure.
Check out a related article:
Above all, by choosing a Scrum team for video game development, you'll get the following perks:
Engaged developers who'll focus on creating the game engine
No waste of effort, time and resources
A transparent working environment
User story approach that emphasizes the customer-centric conversations
Focus on the delivery and deadline at the end of each sprint which would be sacred for the Scrum team. In this case, the usability may vary and be improved later on; however, there will be evident results at the end of each cycle.
The Importance of Collaboration in Game Teams
Game development, in general, requires interaction between members of different disciplines. For instance, level design is based on designer and developer collaboration. Also, characters in games should be created by a team that would add animation, textures, sounds, models and behaviours to them. So, working cross-functionally is an integral part of shaping the right features.
Cross-functional working is necessary and evident in every Scrum sprint, where every team member works on design, animation, coding, testing, etc. just so a demo of the game is played at each sprint. However, regular teams, in reality, will pool together according to the discipline. Besides, no cross-functional work will happen.
On the other hand, in Scrum teams, the whole point is to create smaller interdisciplinary teams who'd have to be flexible and communicate daily. Also, this is a way for the product owner to track the progress more effectively and adequately apply computer science to game development.
Final Thoughts
We're all aware that sometimes the management of your team can be more important than the unit itself. This is why the structural team approach is essential. It has to be mentioned that you won't get results if you have a team of experts that don't communicate with each other or don't follow a particular work structure.
So, that's when Scrum gets into the bigger picture. This agile process will eventually help you go towards your goals in a more structured way by setting smaller goals and deadlines. Scrum teams have a better chance to change features that are not working along the way and provide optimal results.
In the end, by following the Scrum framework, you might achieve your next success in video game development, as it has already shown significant results for successful game publishers. Do you think the Scrum practices will provide you with the expected outcome?