This whole week, our team of BD managers and tech consultants are exhibiting Intersog's eCommerce and mCommerce design and development capabilities at the Internet Retailer Conference & Expo (IRCE) 2014 in our home city of Chicago. Today is the last day of the expo and, although we were very busy hosting  and entertaining our stand visitors and checking out other companies' booths and giveaways all week long, we did manage to eavesdrop on some of the keynote speakers about the current state of affairs on the global online retail scene.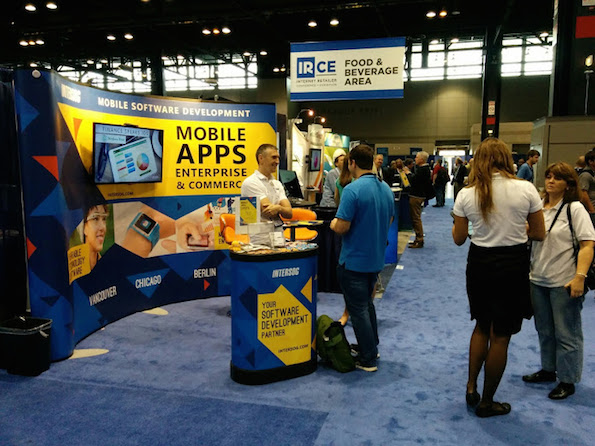 Read more about mobile app development.
Check out a related article:
Here's our compilation of eCommerce trends and challenges highlighted during IRCE 2014:
In 2013, total online sales reached $253 billion, up 17% year over year
In the United States, online sales account for 7.3% of all sales, i.e. one third of the whole retail growth
Mobile share of eCommerce orders grew to 11% in 2013 (up 3% from 2012)
47% of US smartphone owners visit social networks every day which indicates a new engagement opportunity for retailers
Social media provides a great opportunity to expand online retail business for smaller retailers and startups, as it brings 19% - 49% of new traffic to their eCommerce websites (UPS Pulse of the Online Shopper study, 2014)
By the end of 2014, 50% of all US households will own a tablet device, so it's business critical for online retailers to optimize their sites / apps for tablets as well as for smartphones
Today, most of retailers fail to supply enough information to facilitate shopper decision making which often results in lost sales
43% of mobile users prefer PC-based shopping to mobile shopping due to a very poor quality of product images in mobile sites / apps
27% of mobile users read peer reviews and product feedback on their mobile gadgets when in store
Over 30% of online shoppers believe they don't get enough product details when browsing web stores
59% of shoppers are satisfied with their ability to find a customer service phone number and other contact details on eCommerce sites
66% of shoppers review retailer's return policy before making a purchase from their site / app
4 of 5 shoppers admit free shipping is one of the key factors in their purchasing decision making
40% of mobile users look for or redeem discount coupons on their mobile devices
36% of mobile users compare product prices on their smartphones / tables when in store
According to CEO of video shopping provider Joyus, video already accounts for 50% of all mobile traffic, and many shoppers prefer buying from the video player, not the retailer's site. As such, video shopping is likely to become the key game changer on the eCommerce scene soon.
We'll be hunting for more cool trends today and I'll be happy to share them with you in my next post. Want to read it? Please sign up below to get an alert once it's been published!
Pictures from the event are available on our Google+ page.
Stay tuned!
Sources: IRCE 2014; UPS Pulse of the Online Shopper study, 2014; Twitter