Trustworthiness and recognition always go hand-in-hand for Intersog, so it's no surprise that MobileAppDaily, a B2B research and rating platform, recognized Intersog as a trusted provider of custom IoT (Internet of Things) app development solutions in the US and beyond. According to their market report as of February 2020, Intersog has earned a position in the list of the 15+ best IoT developers in the world.
The team at MobileAppDaily has researched thousands of global IoT app developers to come up with that list featuring the fifteen names of the best IoT app development companies of 2020.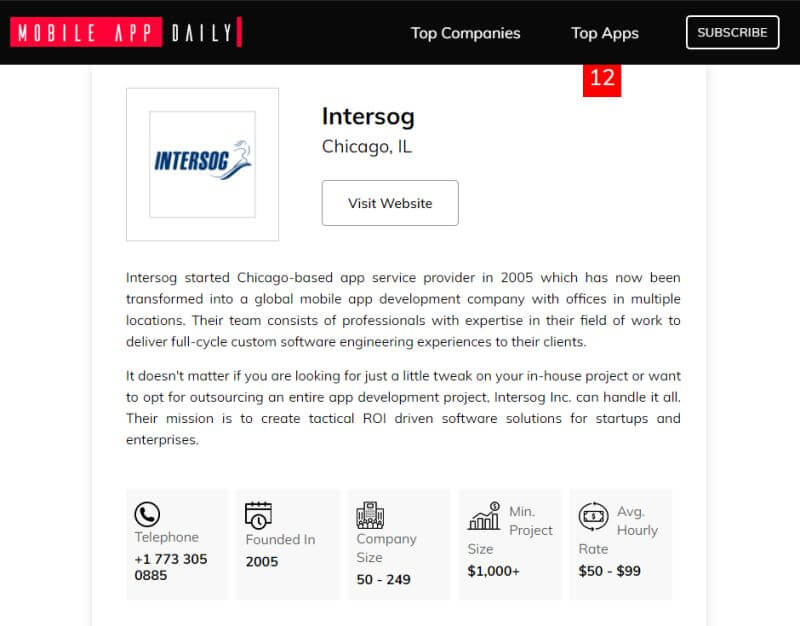 Besides, MobileAppDaily reported about Intersog featured among the 20+ app development companies in Chicago who "have made themselves known for their application development services."
Check out a related article:
"We're glad to have been featured among the leading mobile and IoT app developers in 2020 by MobileAppDaily. This recognition proves Intersog's strong commitment to delivering innovative solutions to our clients in the United States and beyond."

Dmitry Bogdanov, Marketing Director, Intersog.
At Intersog, we're on a mission to make our customers happy through the dedication and professionalism of our team. Our approach is based on leveraging innovation and emerging technologies like the Internet of Things to construct custom software and assemble dedicated IT teams while building customer relationships on service excellence and trust.
Our team is comprised of 250+ information technology professionals that help businesses build custom IoT applications and dedicated teams. Since 2005 we have had the honor to deliver hundreds of tech projects for our customers.
We bring your vision alive and deliver custom IoT applications at a realistic cost. Whether you are looking for a dedicated software team for your next IoT project, or you want to outsource the development process to any of Intersog's R&D centers, we will cultivate the spirit of Agile collaboration to address your needs just as if we were a part of your business.