Forbes Ukraine has recently published their new List of Top 20 Foreign Companies with IT Operations and Setups in Ukraine. The List includes such technology and business giants as Samsung, Magento, Huawei, Sitecore and others.
Samsung remains the leading international company as far as Ukrainian IT staff and investments in R&D are concerned: currently, the company has over 1,1 thousand IT employees in Ukraine and expects to almost double this figure by 2014. As of 2013, Samsung has invested $63 million in its R&D Centers in Kiev and Kharkiv.
Of the total 2,000 employees that NetCracker has, 750 are based in Ukraine developing software and solutions for telecom companies.
Check out a related article:
Having bought a Ukrainian game development studio Persha Studia in 2011, a famous Belarusian MMO games developer War Gaming moved the development of its famous title World of Warplanes to Ukraine where it currently has over 300 developers.
Two Danish companies - Sitecore and SimCorp - use Ukrainian developers within Ukraine to develop their software solutions.
Gaming is one of the best presented segments on the Ukrainian IT market with several leading game development studios having own development centers or Agile teams in Ukraine. Among them are Playtech and Gameloft with over 150 developers each and Playtika and Crytek with 100 software engineers each. See more companies in the infographics below.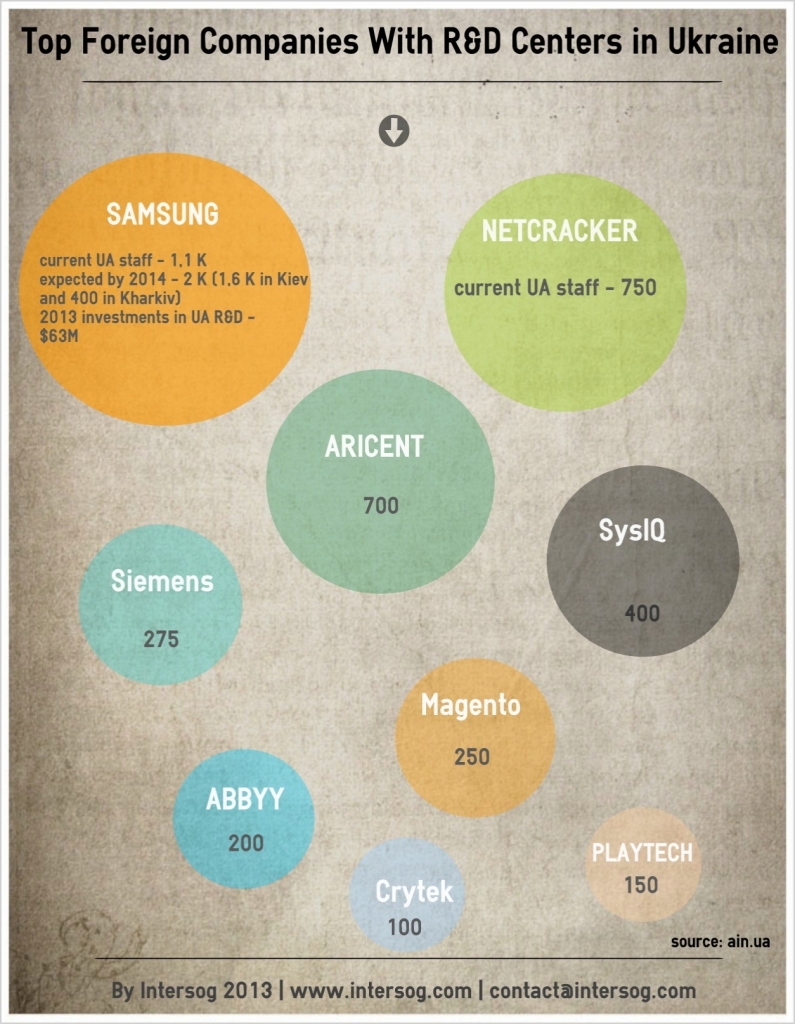 Most of these foreign companies usually enter the Ukrainian IT resources market via outstaffing service providers, not directly or via M&A. As of 2013, Ukraine ranks 50 out of 185 economies on the ease of starting a new business. While it is not a very low rank, it does suggest that doing business in Ukraine can be pretty tough and challenging because of the red tape, cumbersome procedures and time needed to register a new business. When you're a foreigner with no links to Ukrainian business and legal environments, you may encounter a lot more problems trying to set up own development operations here.
Many foreign companies are scared away from transferring their development or IT functions to Ukraine because they're afraid of working without a legal entity and are actually afraid of getting Ukraine's legal entity for their brand due to the above reasons. As such, they lose good opportunities to develop very high quality software products fast and with less expenditures compared to the in-house development. Engaging with Ukrainian IT staffing providers via a Dedicated Development Center model is a way for international organizations to gain maximum value from  leveraging Ukrainian IT development resources without getting a legal entity or facing the reality of dealing with the local business registration and control organs.
Check out a related article:
Want to learn more about how to access "best-of-breed" software developers in Ukraine with almost no administrative, HR and finance hassle? Feel free to ask us!