Right now Intersog is at the final stage of development of an innovative eHealth tool that aims to usher an entirely new philosophy in the management of chronic diseases and difficult healthcare decisions in Norway. Funded in part by Norwegian Health Authorities and in part - by Innlandet Health Trust, the DECIDE Treatment project is a patient-focused web and mobile system that will disrupt the way treatment decisions are made today.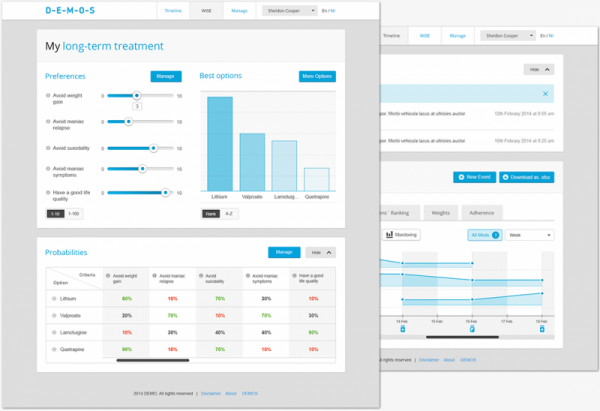 The main aim of DECIDE Treatment is to help patients make better healthcare decisions. In today's medical practices, doctors usually prescribe a therapy and patients have to follow the prescriptions to improve their state. DECIDE Treatment will change this paradigm by involving patients in their treatment choice and decision making through a user friendly, interactive, information-laden and a fully personalized web and mobile portal tailored specifically to each patient and their medical records.
Check out a related article:
We've interviewed psychiatrist Dr. Eiring Øystein, Head of Department of Knowledge Support at Innlandet Health Trust and author of this new individualized approach to patient treatment, to better understand how exactly the tool will change Norway's healthcare traditions.
Intersog (I.): Eiring, could you please tell us more about the DECIDE Treatment project, its key goals and how you actually came up with an idea of creating such a patient decision aid tool?
Eiring Øystein (E.Ø.): Some time ago we started thinking about a new tool that would help patients and clinicians make better decisions and facilitate the use of available information – either from research or as a hard-earned experience.
Almost all of us become medical patients at some point in our life. Traditionally, patients have allowed doctors to make decisions about their treatment, but today the situation is different, with more and more patients demanding to be involved in the treatment decision-making process. The doctor is the expert of knowledge, but the patient is the expert of what is most important to them – thus, it's not always easy for us doctors to decide what is the best alternative for you. In difficult decisions, there's no option that is best for all, it all depends on the patient's individual preferences. You know, there are always different pros and cons for each treatment option, and patients alone should decide which option to go with, based on what matters most to them at this particular time period. For one patient, it's very important to decide how to make therapy a smaller burden to their daily routine. For another patient, a quick cure even with some under-treatment risks is what matters most right now. Each and everyone of us has their own lifestyle and work schedules, so in many cases the chosen treatment should fit in them. The system we are creating with Intersog enables this. It presents research data summarized in a decision-friendly format, and allows the patient to tell the system what matters most to them at this very point of time. The result? A suggestion of a better alternative. And this is only the first step! The system will also allow users to monitor their health condition over time.  Thanks to the creative and hard-working people of Intersog as well as their mobile development expertise, this tool is already beyond the cutting edge in terms of usability and UX.
I.: So, your target audience is mostly patients?
E.Ø.: Yes, mostly patients, but the system will also be used by physicians and healthcare personnel (e.g. nurses, administrators). Also, the system allows for a "decision coach" to support the patient in acquiring new knowledge and getting to know their priorities better.
Check out a related article:
I.: Is it required from all users to be rather tech savvy to use the system?
E.Ø.: Not at all! We're making the system so intuitive that even people with no or very limited technology skills can easily use it. The basic features will be made accessible to all, while more advanced features will also be offered to users over some time, but all of them will be easy enough to use.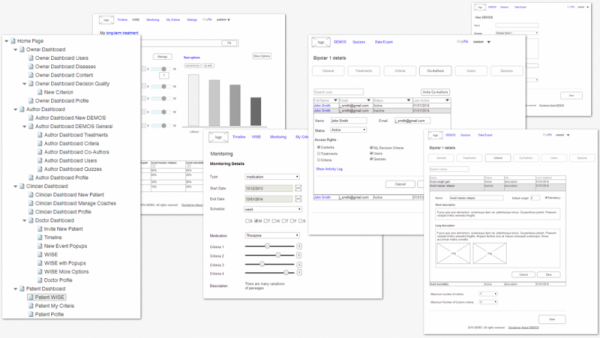 I.: You've mentioned before you're also going to use this tool for the medical research. What type of research is it?
E.Ø.: Right now, we're planing two research projects involving patients with bipolar disorder. Within these projects, we'll test the feasibility and the results of a new treatment program. We also plan to do research projects on lung disease, stroke and a number of other disorders affecting a large number of people.
I.: How do you think the healthcare system will change in the future, especially with regards to psychiatry and psychology?
E.Ø.: I believe patients will increasingly insist that they're the owners of their own treatment, issues, health data and, in particular, any decisions concerning their health. Patients will increasingly realize that many decisions are not only a question of professional expertise, but a question of what matters most to them. In psychiatry and psychology, I hope the future choice of treatment will be based on each patient's preferences and decisions rather than on generalized prescriptions by doctors. Patients are the main untapped resources in healthcare and we should see an increasing number of applications popping out to help them take better control of their own health.
I.: And what do you think about the digital health as well as a rapid emergence of web and mobile applications for the healthcare? Which of the developments already available in the mass market do you think have shown  significant results so far?
E.Ø.: There're already several hundreds of patient decision aid apps in the market, and some of them prove to have improved patient's involvement in the choice of treatment. To me, all these web and mobile developments make sense as long as they make the actual positive results such as the improved conditions, empowered decision making, eliminated side effects, etc.
By now, the app's UI/UX has been fully completed by our design team and the whole system is being deployed by our software development team. We'll keep you posted on the project completion as well as its use cases at the Innlandet Hospital. Please sing up to our blog updates (in the right-hand sidebar) to learn more about the app and how it facilitates patient decision making in Norway.