Making use of data is one of the operations and IT's most important, expensive, and challenging efforts. The diverse ways in which this digital transformation can be achieved are almost endless.
While thousands of companies invest millions of dollars creating monolithic SCADA and data warehouse systems to accomplish this task, the most nimble organizations today are likely to be leveraging the Ignition platform. Ignition, from Inductive Automation, is currently used by many leading-edge technology innovators who are well-known global companies.
Ignition not only runs your PLC systems with automated controls, monitoring, alerts, and automated workflows, it brings the power of a data warehouse for slicing and dicing granular historical data.
Check out a related article:
A primary basis of this power and data availability for edge-of-network devices is the MQTT messaging transport protocol.
MQTT has become the gold standard IoT messaging protocol, by way of its inherent bidirectional publish/subscribe functionality, its lightweight, open-source foundation, and the efficiency, scalability, and security it offers. The list of benefits is quite extensive and you can learn more here.
Behind the Messaging - Reliability, Security, Bandwidth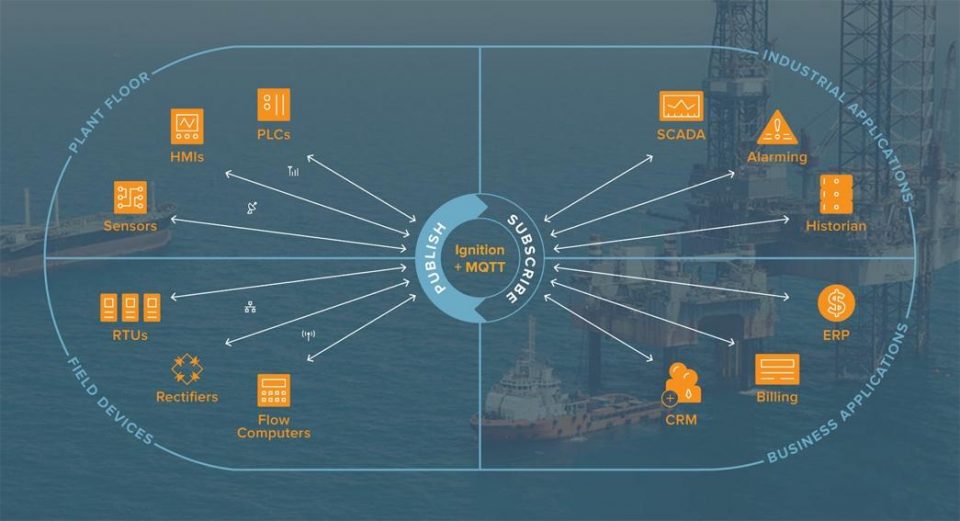 How does it work and why is better? With the MQTT publish/subscribe function and the Ignition platform, you can collect all data from every device (polling at the edge) with any frequency or volume required to make the best decisions. This reduces the overhead significantly and with stateful connections, you always know if there is an issue with your equipment. Leveraging MQTT is ideal for remote monitoring where network bandwidth is limited and where the M2M environment requires a low code footprint.
With an MQTT Broker, you can collect all the data centrally where Ignition parameterizes it and delivers it to anyone who wants to consume it; typically to analyze or take action.
It's basically creating an operational data store. You set the frequency, the acceptable parameters, automate adjustments, bridge equipment, and facilities, the possibilities are unlimited.
By decoupling edge devices from proprietary systems, delivering that data to the enterprise, and setting up that only those who need the data subscribe to it, you've reached level 5 maturity.
Check out a related article:
Maturing Without Growing Old
Gartner's Manufacturing Maturity Model mimics any IT/OT Convergence initiative, and Ignition's architecture and inherent framework help organizations reach level 5 maturity in months rather than years.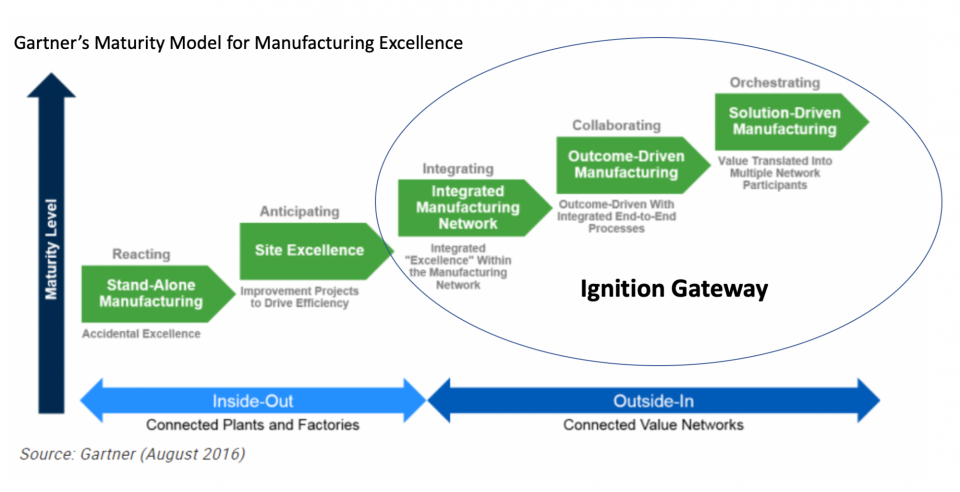 Grabbing the Data by the Horns
With the MQTT supporting publish/subscribe through its lightweight, low code method, it can churn data from your systems to your fingertips lickety-split!
Making it ideal for producing actionable data quickly so your employees can improve operational efficiencies and make the best use of their time. Putting plant equipment and field device controls in operators' hands wherever they are, improves efficiency, quality, and work-life balance.
Data Consumers
Who wants the data and why? Give them exactly what they need to take action on and what they need to analyze. Identify what your data can do for you and Ignition will give it to you. It will wake you up at 5 am and tell you what's what!
Ignition securely puts actionable data at your fingertips on your phone. With an alert that requires action, Ignition delivers that right to your phone. You no longer need to get to your computer to control operational functions.
In addition to better controls and visibility, you have the built-in data historian to chart and build any types of decision dashboards, trends analysis, predictive analytics, KPI's, etc.
Never leave undiscovered data at the plant. Provide centralized visibility to all assets to gain clarity on where efficiencies can be achieved. However, you need to see your data, it can be done with Ignition.
Giving data consumers only what they want and need makes Ignition the pinnacle IT/OT convergence platform.
Beyond Industrial Automation
Ignition is not just for IA or IT/OT convergence and digital transformation, it's a reliable system for information convergence. Get data out of logbooks and onto tablets. Produce regulatory compliance reports for all disparate operations globally. Create central hubs for any disparate applications. Build personalized dashboards for daily driven activities. Automate workflow, digitize records, provide secure authorizations, field management, mobile connectivity, the possibilities are unlimited.
The New Architecture
Revolutionizing OT while enveloping IT (or vice versa) is no longer daunting or expensive.
The nutshell is to leverage cloud computing, software-defined WANs (ideal for large geographic networks), a NetCloud Perimeter for secure cellular transmissions, edge devices running MQTT Sparkplug, and Ignition's Centralized Gateway and Designer.
Starter Projects and Custom Demo's
If your goal is to transform faster and let go of the legacy, Intersog can set up a custom demo with your data, your visualization needs, using a critical function with a key user to show a clear example of how you can build and leverage the system. We can also engage with a starter project using our Ignition server before you commit to the platform.
The ROI is so readily apparent that these small engagements go a long way in the CBA required. Pitching a revolution has never been easier. If you are already an Ignition customer, we can help you transform with project development, integrations, customizations, UDT creation, templates, etc. Let us know how we help.
About Ignition
Ignition is a feature-rich software development platform that services HMI, SCADA, IoT, and MES for industrial automation as well as any type of web-based, responsive, integrated, and centrally available software application.
Ignition is platform agnostic with a one-time fee per server pricing model which provides unlimited devices, databases, tags, projects, screens, views, reports, users, scaling, etc. The development framework is component-based, built on Java, and can be customized with Python. The dev cycle on Ignition projects is significantly faster than traditional development. Ignition currently handles the most robust industrial automation requirements for some of the largest global companies.
About MQTT
MQTT is a lightweight, simple publish/subscribe messaging protocol created for constrained, low bandwidth, high latency, and/or unreliable networks.
It has been around since 1999 and was built to be applied to SCADA OT infrastructures. As of 2018, MQTT has surpassed HTTP in IoT messaging. MQTT has become standard at Amazon, Google, Facebook, Microsoft, just to name a few.
The publish/subscribe function allows you to decouple the publishing to the subscribe so you can optimize the data consumption. MQTT is a payload agnostic which decreases the setup significantly. MQTT is bidirectional and provides stateful session awareness.
About Intersog
Intersog is a global custom software solutions and staffing organization that was founded in 2005. Operating from 5 global development centres, Intersog is rooted in mobile, gaming, and web applications development.
Intersog is a Certified Ignition Integrator focused on edge-of-network device solutions, Ignition development and support, disparate systems' integration, API, SaaS, Automation, and more. Please contact us via our web form.