When e-commerce first emerged, it disrupted the traditional brick and mortar retail business model. Since then, nothing has really changed. It really hasn't evolved to become more engaging by providing timely enhanced user experiences throughout the buyer's journey.
But with augmented reality (AR) growing in prominence, e-commerce is about to go through a period of serious innovation. This initiative promises to provide real value for both retailers and their customers.
Since the release of Pokemon Go, AR has been making a lot of noise in the technology world with a new AR app released every few days. This phenomenon can be attributed to Apple's release of the ARKit which was closely followed by Google's ARCore.
Check out a related article:
AR in retail offers online shoppers more interactivity and presence that can help stop potential customers from abandoning their shopping carts. But how does one achieve this by leveraging this technology?
While AR can't replace physical contact with products at brick and mortar stores, it can provide highly immersive experiences. In fact, this technology has the potential to help shoppers feel more confident about their purchase decisions.
According to TechCrunch, the AR market (which is primarily made up of AR on mobile devices) will be worth approximately $83 billion by 2021. They also predicted that AR will greatly outperform virtual reality, so both online and offline retailers can't afford to ignore it.
To get an idea of what's in store for AR in e-commerce, let's take a look at what brands have already achieved with this relatively new technology.
1. AR View
Amazon recently launched its new AR View app to give online shoppers the opportunity to see how any given product will look inside their home or workspace before moving it to the shopping cart. This cool feature is activated when you click the camera icon in the Amazon app.
AR View can be used to select from thousands of products across categories like the following:
Check out a related article:
Home décor

Furniture

Kitchenware
At present, the AR View only works on iPhone 6S and beyond, but if you have an Android phone, you'll have to wait. This might not happen anytime soon as AR View heavily revolves around Apple's ARKit.
2. IKEA Place
IKEA Place came out a couple of months before AR View and does exactly the same thing. Everything in this AR app is 3D and true to scale, so when you demo products around your house, you can be certain that it's the perfect size, design, and function.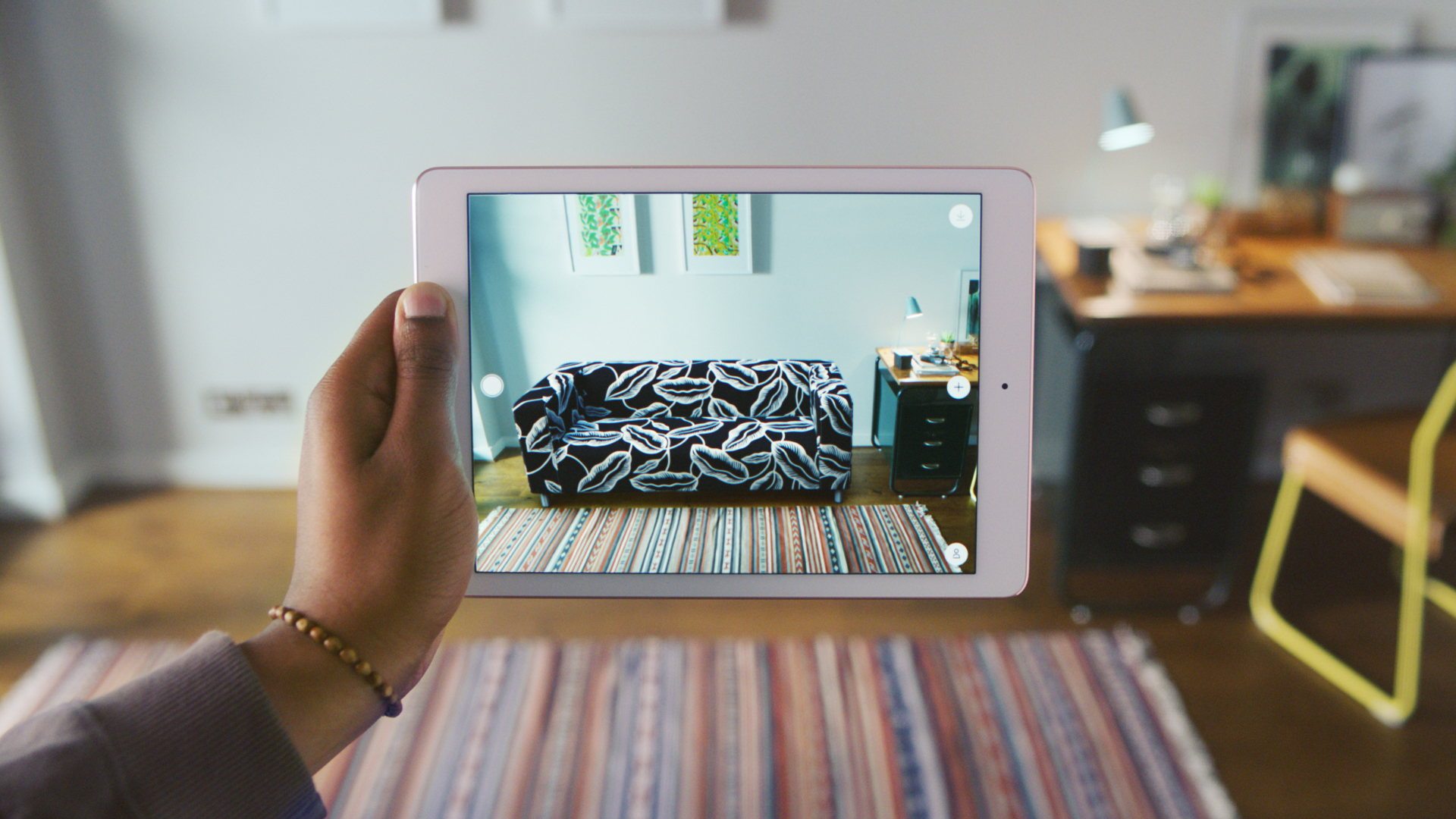 Like AR View, IKEA Place also started life as an iOS app, but today customers can also download the Android version from Google Play. With this AR initiative, the company hopes to change the way people shop for furniture, forever!
3. Unlimited Yihaodian
While the name might not be well known in the western hemisphere, Yihaodian certainly deserves to be mentioned here. The company is China's largest online grocery store and it recently started experimenting with AR technology.
Their approach was focused on not only enhancing online shopping experiences but also to rapidly expand into new locations without spending a penny on real estate. If you're wondering what that even means, let me explain.
Yihaodian's virtual grocery stores can be found in parking lots, tourist hot spots, and parks across the country. So when shoppers enter one of the company's empty tents, they can use the Unlimited Yiahaodian app on their smartphone to guide them through virtual aisles and just touch the product on the screen to drop it into the cart.
Once they're done with their grocery shopping, they can then arrange for the products to be delivered to their home. This is the first example I have come across where the tedious process of grocery shopping was transformed into an engaging AR experience that effectively blended the boundaries between the online, mobile, and physical world.
Last year was the beginning of AR in retail and in 2018, we can expect to see a lot more enterprise activity to take advantage of this technology.
About twenty years ago Walmart failed to see the potential of online shopping and lost a huge chunk of their big box retail audience to Amazon. I think lessons were learned and history won't repeat itself, but then again, none of us can say that for sure.
Are you looking for an AR mobile app development services provider for your next e-commerce project? Get in touch with one of our in-house AR experts and find out how you can achieve your goals on time and on budget.