The pandemic era may be fading, but the technology in health trends for 2023 are stronger and and more vital than ever. The healthcare industry requires structural and technological transformation to move from treatment-based reactionary care to prevention and well-being (UN News, September 2022).
Fortunately, a new wave of innovation in healthcare is on the rise, with many new technologies and solutions coming. These include wearables, mHealth, digital health, and telemedicine solutions powered by artificial intelligence and biomedical engineering. All of these technologies have the potential to transform the healthcare system in 2023 and the coming years.
We will review the latest digital health tech trends as forecasted by leaders in the medical industry. Also, there is an overview of which emerging technology solutions will likely be most prominent in the health sector in 2023.
Check out a related article:
Top 5 Trends Defining the Future of Health Tech
As Deloitte forecasts, a wave of innovations in telemedicine, health wearables, and neurotechnology will push medtech companies to spend more in the next few years. On the other side, Statista reports that the revenue in the medical market is projected to reach $612.50 billion US dollars in 2023, a 6.5% increase compared to 2022.
The global medtech market volume forecast for 2016-2027 by Statista (July 2022)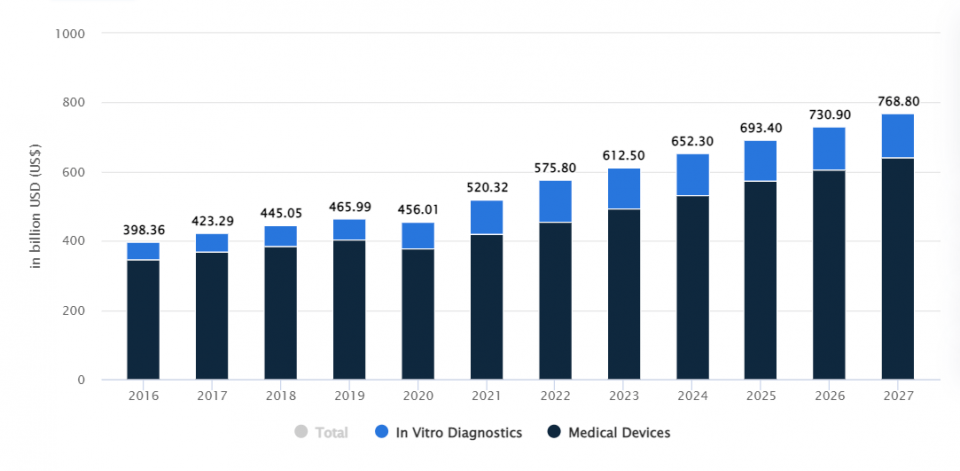 The following five trends will continue driving the growth of healthcare in both the US and the world.
Trend 1: AI and ML Are Rapidly Advancing in Healthcare
Artificial intelligence and machine learning make predicting, diagnosing, monitoring, and treating patients more effortless and manageable in the healthcare sector. These technologies enable clinicians to monitor the health of their patients in terms of what they eat, when they sleep, their weight, and more. It also facilitates the delivery of personalized care to patients based on their individual needs and personal choices.
In fact, AI and ML have currently become the most popular technologies in the healthcare industry. According to PwC, 73% of healthcare executives are confident that deep learning, natural language processing, and predictive analytics will significantly improve their companies' ability to treat patients onsite and remotely.
According to Residence Research, the global AI-in-healthcare market has reached $15.1 billion in 2022 and is expected to hit $20.65 in 2023. And by 2030, the market will reach $187.95 billion (with an annual growth rate of 37% from 2022 to 2030).
Check out a related article:
Top Use Cases for AI in Healthcare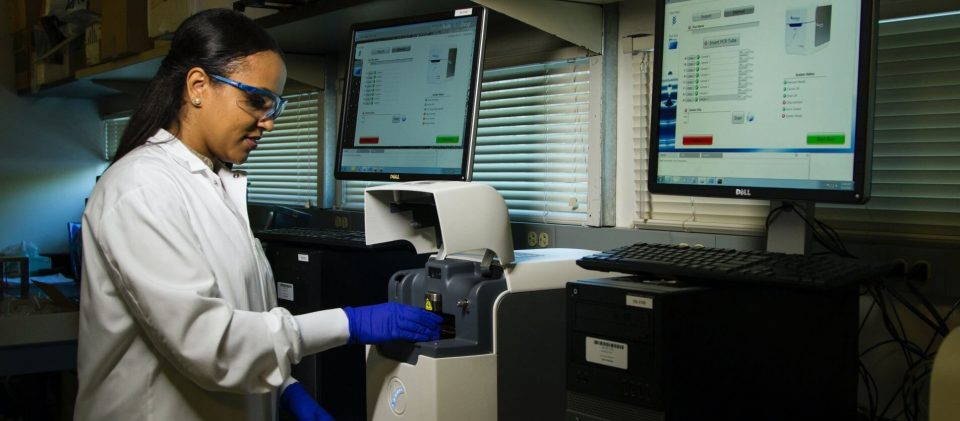 Trend 2: Virtual Communities will Play a Significant Role in Patient Care
Along with companies developing innovative digital health products, other organizations will provide the structure that supports virtual communities. Like Facebook and Twitter, these communities allow patients to connect with other patients and healthcare professionals. Helping them to receive and share critical health information online.
For example, at DailyStrength, people can find support for a particular rare disease. There will be a relevant community with others suffering from the same condition. In addition, PatientsLikeMe, MedHelp, and PsychCentral build virtual community platforms. These platforms effectively spread good health habits and provide critical support for people with chronic health conditions.
In the next few years, we will see the rise of virtual communities that play a critical role in providing comprehensive care for patients. Augmenting traditional channels which can be difficult to access, such as long-term care facilities, remote locations, and via devices.
Trend 3: Connectivity will Continue Transforming the Medtech Industry
The Internet of Medical Things (IoMT), also known as IoT in healthcare, will continue reinventing the way medical service providers and patients engage in a wide range of practices. This trend will profoundly impact manufacturers and suppliers, who need to invest in connected health technologies and services that meet the needs of the modern patient.
IoMT enables a network of devices and objects that connect patients and clinicians, automate critical tasks, and provide real-time data on individuals. This network serves various purposes, including tracking patient behavior, providing secure access to medical records, linking hospitals and providers with patients in the field, dispatching medical information to healthcare providers, and more.
Deloitte forecasts that the market of IoMT and connected medical devices will hit the $158.1 billion mark by the end of 2022. At the same time, the IoMT market will grow at a CAGR of 12% and reach $215.8 billion by 2025.
This trend has fuelled the growth of a wide range of digital health products that let patients monitor their health, keep track of medication, manage symptoms, and alert doctors when something is wrong.
Dozens of IoMT companies like Neurotech, Genoox, and Pear Therapeutics leverage connectivity to improve patients' quality of life and provide healthcare professionals with the information they need to make informed decisions.
Top Use Cases for IoT in Healthcare 2023
In-home patient monitoring. In-home IoMT allows patients to get treatment and follow doctors' orders while staying at home. This trend is popular for home care for the elderly and people at risk of hospitalization. Telehealth, using technology-based remote patient monitoring, will further expand this trend. Providers like PlushCare, Teladoc, and Amwell have proven to be strong players in this space, giving their patients unprecedented access to their healthcare.
On-body IoMT. A number of wearable devices and smart clothing are available on the market to track physical activity, heart rate, calories burned, or blood glucose levels. These connected technologies allow patients to collect and analyze data about their health and make informed decisions about taking care of themselves. Also, clinical on-body IoMT is a growing trend that will be most relevant for pharma, medical device, and diagnostic equipment manufacturers. Companies like AliveCor, Glooko, and Cardiocom provide healthcare professionals with various tools to improve patient health.
In-Clinic IoMT. Healthcare institutions are building facilities that accommodate various IoMT devices, like smart scales and patient monitoring systems. Clinics like Prisma Health and Fertility Centers of Illinois are leading the way by adding IoT connectivity to their hospitals and service hubs. This trend will continue to gain momentum as more and more clinics offer patients access to their physicians through telemedicine, body sensor devices, and intelligent video.
Trend 4: Supply Chain Disruptions will Emerge
Supply chain disruptions will be a game changer for the health industry in the new few years. Every year the industry is more interconnected than ever, with all stakeholders relying on each other to provide essential goods and services.
From the delivery of pharmaceuticals to the application of diagnostic tools and patient care services at the point of care in healthcare providers, supply chain disruptions could threaten patient health and safety.
Three reasons for medical supply chain disruptions in 2023:
1. The immense amount of data generated in the industry. RBC Capital Markets recently reported that the healthcare industry generated around 30% of the world's data volume in 2021. And by 2025, this amount will reach 36%!
This tendency makes medtech the fastest-growing sector when it comes to data volume. The amount of data flowing in and out of the medical supply chain is skyrocketing, and this trend will grow further in 2023.
2. The increase in cloud technology adoption. The industry faces many challenges with the increasing use of APIs, mobile applications, and cloud solutions. Manufacturers are moving to a cloud-based SaaS model because of its innovation, collaboration, and productivity benefits.
The increase in cloud adoption leads to further fragmentation of the medical supply chain. Sometimes, cloud companies can also become significant suppliers of healthcare products and services. For example, Amazon is one of the largest suppliers for many pharmaceutical companies and hospitals.
3. The rise of eHealth. This term was invented in 1999 as a combination of "electronic" and "healthcare." eHealth has been developing rapidly in recent years. It is one of the most significant opportunities for medtech companies in 2023. The eHealth market will expand rapidly as more people use it as a primary healthcare resource.
However, despite eHealth's benefits, it is also prone to disruption. As the medical industry becomes more complex and adaptable, it is no longer only about connecting patients to information technology. This trend involves many interconnected parts of healthcare, including the value chain, supply chain, and financial services.
How to Overcome Healthcare Supply Chain Disruptions
The key to success is to be prepared. A medtech organization needs strict protocols and procedures to respond swiftly and effectively during a supply chain disruption. In addition, organizations should have strong partnerships with all their stakeholders in the supply chain. These initiatives include government regulatory bodies, business partners, cloud service providers, and IT suppliers.
Healthcare service providers and manufacturers must act immediately to take control of their supply chains in 2023. Since more than 70% of the world's global healthcare supply chain is unconnected, a disruption anywhere in the chain can cripple an entire system. The cost of such a disruption is 100 times higher than the cost of preventing it.
Industry leaders must address this issue by integrating their systems with the rest of their supply chains to monitor the movement and condition of medical goods and services. This integration must be done securely so that the data flowing in and out of systems is not compromised.
And what's more, health companies should create an inventory of their supply chains to identify all possible points of failure and avoid potential disruptions.
Trend 5: The Demand for Healthcare Software Development will Grow
The business of healthcare software development has been growing over the recent years as more people have become aware of the need to take care of their health. In 2023, the industry will demonstrate a growing demand for high-quality patient treatment tools and services. The leading companies that supply these types of programs in the United States include Cerner, Healthstream, Epic Systems, Merative™, and others.
Healthcare developers will expand their customer base in the coming years as they focus on various areas and applications, including the most trending ones:
Telemedicine and eHealth
Patient portals and communities
Medical image analysis software
Hospital management
Medical diagnosis
Remote patient monitoring
E-Prescribing CMS
Artificial intelligence and IoMT will push forward digital health software development. On the business side, the growth of specialty health delivery methods will contribute to the demand for medical software solutions.
Growing awareness of using smartphones and tablets will expand the use of video chat and wearable health gadgets. An influx of data will accompany the increase in the number of patients. The need for access to new regulations and the lack of interoperability between health information systems from different providers will create growth opportunities for healthcare software developers in 2023.
Wrapping Up
As the health tech industry develops, there will be some changes that offer both challenges and opportunities. We believe the following drivers that will continue to foster growth in 2023 and the coming years:
Growing demand for digital health tools and services
Expansion of telemedicine and remote patient monitoring
Adoption of cloud, AI, and IoMT technologies that will push healthcare software development
Growth of wearable tech and devices with remote monitoring abilities
Supply chain disruptions that will increase the need for innovation
As 2022 gives way to a new year and new opportunities, this is an excellent chance to review the health technology landscape and take strong steps toward the future.