As the New Year is approaching, many mobile app development companies start publishing their industry predictions and expectations. Intersog isn't an exception and here's our List of Top 5 eCommerce App Trends that are likely to be very hot during and after 2014.
QR code shopping apps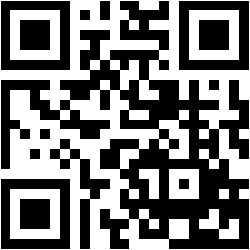 Although QR codes haven't become as popular and mainstream in Europe or North America as they're in Asia (especially South Korea and Japan), new technologies may give a second life to QR codes in the Western world. Mobile retail is one of the areas to let QR codes gain momentum: retailers may put their codes anywhere they want allowing prospective buyers to scan them and get to the relevant landing page to place an order right away.
In South Korea, for instance, the most crowded places have already been converted into the shop-windows: metro stations, bus stops and trade centers are covered with paper copies of the actual department store product lines to stimulate and speed up purchasing. Such a QR code shopping culture will gradually and inevitably migrate to the Western World pushing companies to create mobile apps enabling direct purchasing from magazines, TV screens or concrete walls via QR code scanning.
Check out a related article:
As the wearable and augmented reality technologies evolve, more opportunities for QR code shopping will emerge. Once Google Glass and similar wearable products conquer the mass market, they will be used for QR shopping more intensely than the smartphones. As such, mobile and wearable apps able to scan QR codes and facilitate / accelerate purchasing decision making will be in high demand in 2014 and the following years.
Read more about ios app development in our solutions.
Biometric shopping apps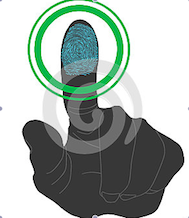 Whereas QR codes allow for immediate purchasing decisions and product choice, biometric sensor technologies  allow for immediate payments. Biometric fingerprint IDs will provide a great solution for one of the biggest challenges of today's online retailers - secure retail point of sale systems. 2014 may be the start of a one-tap authentication era. No wonder Apple has equipped its iPhone 5S with a fingerprint scanner enabling fast and secure one-tap password-free purchasing through iTunes, the App Store and iBooks Store. So, if you're thinking over what type of an app should be built to disrupt the marketplace - consider creating a touch ID enabled one now. Even if  biometric shopping fails to go mainstream in 2014, it will for sure in the years to come after.
GPS-based delivery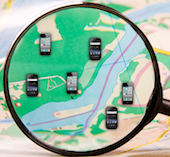 Selected via QR code scan and paid with a finger touch, goods in the near future will be delivered based on our GPS location tracking. Google Glass natives will most likely hate the idea of explaining to a delivery man where to ship the order. So, as a retailer, you should be ready to deliver your goods based on customer's GPS location. This will drive a demand for GPS tracking apps to enable goods delivery to anywhere, no matter if it's an office or a chaise longue on the beech.
Virtual 3D shops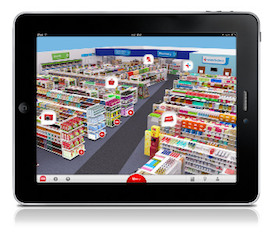 In order to bring an offline shopping atmosphere to the online and mobile spaces, retailers will be investing more into mobile app development of 3D shopping experiences. As such, 3D eCommerce apps will be in high demand allowing us to have shopping experiences as close to offline shopping as possible: we'll "walk through" the aisles, talk to virtual assistants while choosing products, and pay at the virtual cash desk. Some of the world's leading merchandize retailers including Tesco are planning to create such 3D shopping apps next year. America's biggest pharmaceutical company CVS has already launched its iOS-based 3D drug store project this year that imitates actual products range in each separate store location - just choose its physical address from the drop-down and voilà!
Read more about android app development in our solutions.
Check out a related article:
Virtual fitting rooms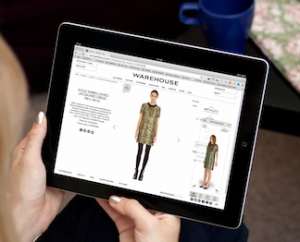 One of the key arguments online shopping opponents use in different disputes is that we can't physically touch and feel clothes we buy online and, thus, are at risk of buying a pig in a poke. To minimize such a risk more retailers will develop virtual fitting rooms based on the following technology: a robotic mannequin that simulates any body proportions to the nearest inch is photographed a thousand times (each time with a 1-inch deviation from the previous parameter) and these pictures are uploaded to the database. Once we've inserted our proportions, the database filters out pictures that best match our body parameters and we can easily "try on" clothes and see whether it fits us well or not.
Alternatively, such virtual dressing room apps can be based on the computer algorithm that models our exact body shape based on pictures and body parameter inputs we provide (example - London-based startup Metail uses 3D visualization technology which enables a shopper to upload a photo and basic measurements to create an own virtual representation and try on garments online).
As we see, in the near future our shopping experiences promise to be even more mobile, interactive and targeted. Today, we get product recommendations based mainly on our social media profiles and online behavior. Tomorrow, goods will be marketed to us based on our appearance, brands we wear and things we do offline. Sounds incredible, doesn't it?