Today, e-commerce is growing much faster than sales in general and figures speak for themselves: according to IBM, in Q1 2013 in-store sales grew 3,2% only, while e-commerce sales experienced a 20% growth. The boost of mobile e-commerce is even bigger – it grew 31% in Q1 and reached $8.75 billion, as per IBM research.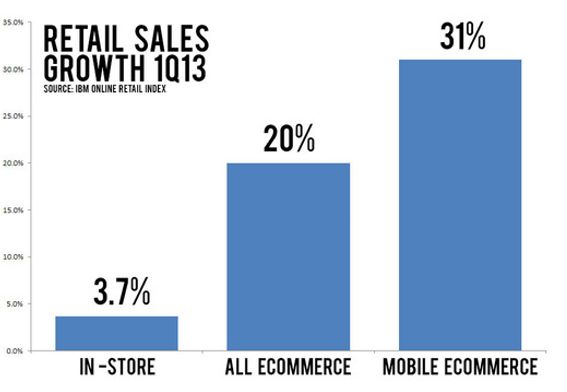 The worldwide figures are even more impressive: in 2013 people are expected to spend $1.2 trillion online, with Asia Pacific becoming the Number One market, leaving behind North America and Europe:
Check out a related article: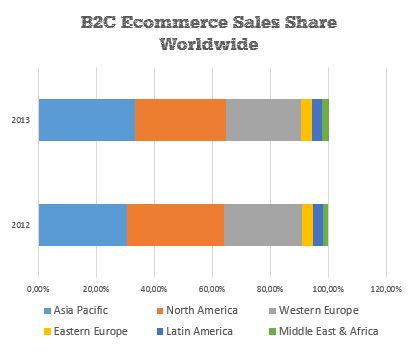 Read more about android app development in our solutions.
Geography-wise, the US is leading the e-commerce race with $384 billion in online sales expected for 2013 and the biggest average sale per buyer. China takes the second place with $181 billion and the UK ranks 3d with $141 billion expectes digital sales: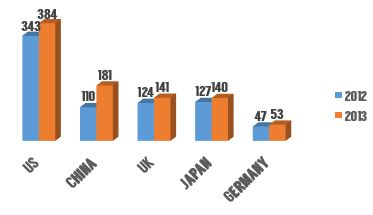 According to Emarketer research, the average order value also depends on the device used for shopping and the results here are even more interesting: people spend most with their smartphones, followed by tablets and leaving traditional PC far behind. Tablets are also the fastest growing segment in e-commerce that already make up more than 10% of all online sales. According to the Google research, more than 72% of tablet owners use their devices to make online purchases on a regular basis. Also, according to Emarketer, conversion rates on tablets are the highest in e-commerce and continue to grow.
Still unsure if mobile is important for e-commerce success? Check out this report:
Read more about ios app development in our solutions.
Check out a related article: