We're pleased to announce that one of U.S. leading b2b research agencies Clutch features Intersog in Leaders Matrix for the IoT development and delivery capabilities.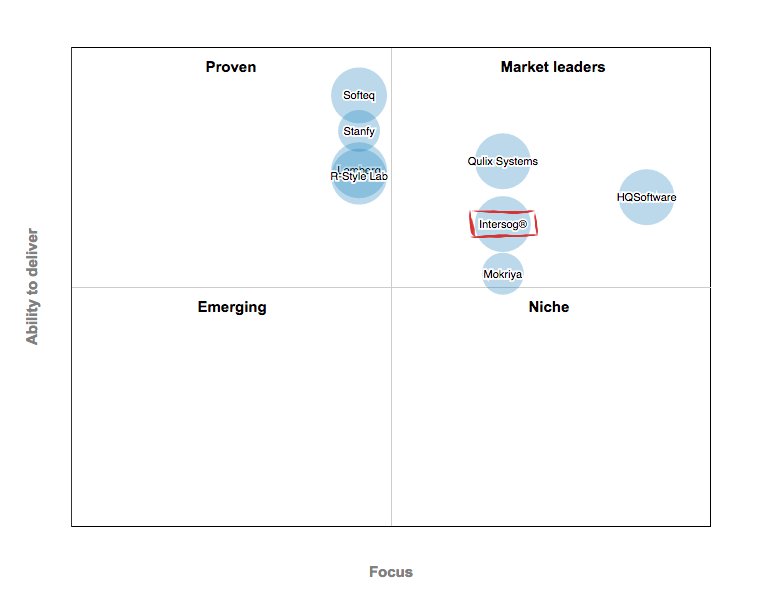 The Leaders Matrix is a 2x2 matrix where service providers are mapped based on their areas of focus and their proven ability to deliver. Leaders Matrices are developed for key service markets where unique skills are required. The "Ability to Deliver" dimension is composed of three evaluation criteria, each with several underlying metrics: 1) References and reviews (quality, cost, willingness to refer to other companies), 2) Clients and experience (portfolio and proof points of focus), and 3) market presence (brand visibility, reputation).
Check out a related article:
Intersog ranks as a market leader with 30% of development efforts dedicated to custom IoT solutions for Fortune 500 companies and startups. Check out our IoT projects portfolio for more information about how we build and deliver successful IoT applications for ventilation equipment, connected cars (OBD-II) and data collection and analytics projects. For more informations about our IoT development services and solutions please visit our IoT website.
We congratulate our competitors that make it to the 2016 IoT Leaders Matrix and wish them the best of luck with new business opportunities and exciting IoT projects!
Lets discuss how Intersog can help!