This year certainly has been like none other that we have experienced. The whole Covid-19 pandemic affected the whole world and forced many major changes for governments, companies, and people. With some of those changes came the famous home office concept.
Doing home office is nothing new, many companies have been doing it for years. Thanks to a little thing called the internet this option are available to millions of people and gradually the concept of being present in the office has become less and less important through time.
The concept of home office has become part of the new normality and the truth is that many companies will adopt this modality as permanent. This has certainly advantages for both sides. The employees on one hand can save time and money in their daily commute to work, and have more time to spend with their family and friends, and at the same time have more flexibility.
Check out a related article:
For companies on the other hand it represents a lower operating cost since the employees are now in charge of taking care of all the infrastructure and now they can source employees all around the globe. There are also negative aspects like the less communication and interaction between employees, the lack of availability to develop the organizational culture of the company and the commitment of employees.
Now the key is to relate the home office with maintaining a healthy and steady work environment. You need to take into account several aspects for you to not feel burnout and keep your productivity or even increase it. If the Coronavirus has left you feeling burnt out, overworked, and stressed, here are some ways you can manage your work-from-home environment to create a better work-life balance.
These tips will help you make sure that you're successful, both at getting your work done and at maintaining your mental well-being.
Improve Your Work-life Integration:
7 WFH Tips You Can Do Right Now
1. Get Dressed
You don't need to dress as formally as you might for work, but the simple act of changing clothes serves as a signal that it's time to wake up and get things done. Don't underestimate the power of putting on clothes suitable for public viewing.
It makes you feel human and confident and helps draw the line between being at work and being at home. "Feeling human" might seem like an odd thing to have to actively think of, but it's especially important at a time like this when the breakdown of your everyday routines might make you feel cut off from your "normal" life and the "real" world.
Besides, just because you're working from home doesn't mean that no one from work will see you. It's 2020, and we're all about to have a lot of video meetings.
Check out a related article:
2. Designate a Workspace or Home Office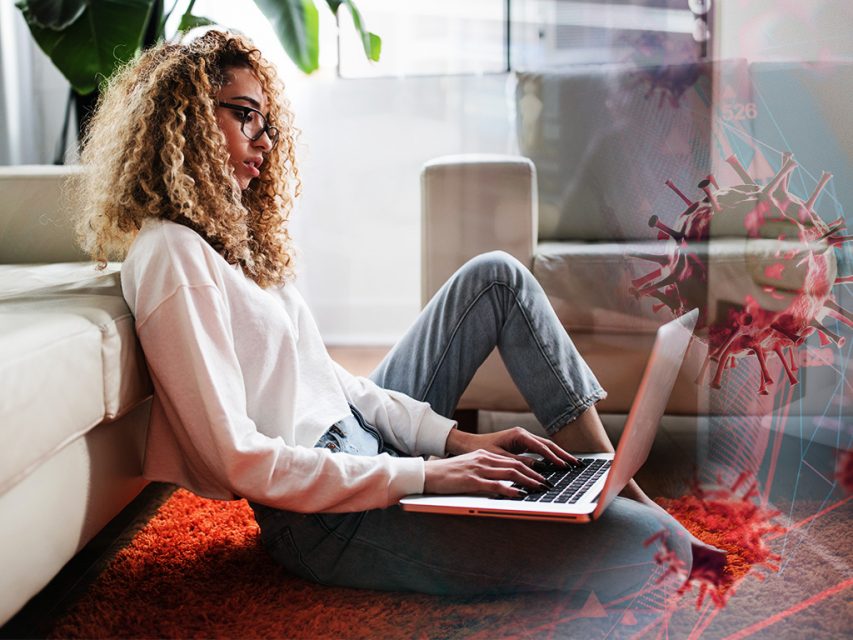 One of the big challenges when it comes to working remotely is keeping your work and home lives separate. If you never fully disconnect from work, your work productivity will suffer and your home life can take a hit as well. Try to make your workspace comfortable with a chair you can sit in for eight hours a day and a few decorations. Find an area with good natural lighting if at all possible.
Entering your workspace will help you turn "on" at the beginning of the day and get down to work. On the flip side, leaving your workspace will also help you turn "off" at the end of the day and fully disengage.
That's why it's also important not to spread yourself across your home while it might seem great to be able to move from desk to couch to bed, if you let your laptop creep into your downtime space, it makes it harder to keep your work separate from your home life.
3. Keep Clearly Defined Working Hours
Just as you designate and separate your physical workspace, you should be clear about when you're working and when you're not. You'll get your best work done and be most ready to transition back to the office if you stick with your regular hours. Plus, if your role is collaborative, being on the same schedule as your co-workers makes everything much easier.
If you live with other people, this separation is even more critical. Communicate with the people you live with to establish boundaries so you can cut down on distractions during the workday—and then disconnect and give the people you care about your full attention. Having a separate time and space to work will allow you to be more present in your home life.
4. Build Transitions Into (and Out of) Work
Your morning commute not only gets you to work—from one physical location to another—but it also gives your brain time to prepare for work. Just because you're not travelling doesn't mean you shouldn't carve out equivalent routines to help you ease into your workday. Maybe you usually read or listen to music on your commute. You can do that at home. Or maybe you can spend some time with a pet or loved one. You can even add in a workout or spend some time on a hobby.
At the other end of the day, the evening commute does the reverse. Commuters often take for granted the time they have in the car or on the train to wind down from a hectic workday and mentally prepare themselves for their evening routine. If you try to jump directly, your brain doesn't have time to hit the reset button, which can make you less present as you transition back into your personal life. Give yourself something that will signal the end of work and serve as a buffer.
5. Don't Get Too Sucked in by the News – or Anything Else
Distraction is one of the big challenges facing people who work from home, especially people who aren't used to it. It's human to get distracted. But you need to be wary of how much you let yourself get distracted. You probably already take a few breaks throughout the day at the office, and that's fine to do at home, too. Using that time to throw in a load of laundry is OK, but try not to look at your new work arrangement as an opportunity to finally clean out that closet or anything else that takes a lot of sustained focus.
6. Communicate, Communicate, Communicate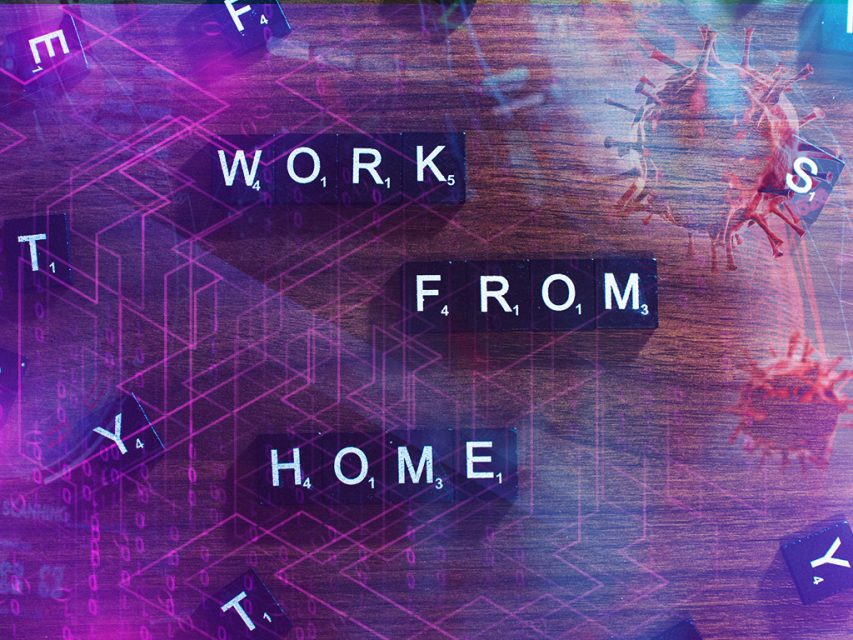 If you don't usually work from home, chances are there will be some bumps in the road if you have to suddenly go fully remote. The key to steering through these bumps is communication, especially with your manager and direct reports.
Either before you make the switch or as soon as you know it's happening, come up with a plan that lays out expectations for how often you should check in and how you'll convey any changes or new assignments to one another. Do the same with anyone you usually work collaboratively with throughout the day.
And you don't have to stick with only text-based communication. Do not default to email if you had spoken to a co-worker face-to-face while at the office. You might find it's best to check in with your boss and co-workers over the phone or through video chat. This will cut down on miscommunication and break up some social isolation that can come from working from home.
7. Don't Forget to Socialize
When the whole office suddenly starts working from home, you're cutting off a lot of the casual social interactions you're used to having throughout the day that help you feel less lonely and break up the monotony of work. Combat this by talking with your co-workers throughout the day through Slack, calls, text, Zoom, or however your company communicates. If you usually ask your co-workers about their weekends, keep that up. If you'd usually comment to them about a specific topic, reach out. These little interactions go a long way.
You can also schedule morning video call kick-offs with your whole team so you make space for that first-getting-into-work small talk, or carve out time for other check-ins throughout the day.
While you're at it, don't just check in with co-workers about this project or that TV show you both like-really check-in. Lots of us are feeling anxious and uncertain right now, and suddenly being isolated at home can amplify these feelings. Don't hesitate to reach out to a co-worker just to ask how they're doing.