Silicon Valley Bank has just published key insights from their 2017 U.S. Startups Outlook 2017 most of which suggest that despite recent uncertainty caused by a transition to a new administration in Washington, DC, as well as Trump's intentions to alter skilled migration and H1B visa policies, the M&A environment stays strong and startups keep hiring new talent like never before. That being said, innovation continues to be a key driver of the U.S. economy in 2017.
For this year's survey, Silicon Valley Bank received 941 responses 69% of which came from technology companies covering such topics as how innovation companies are faring, hiring projections and how government policies are affecting business growth.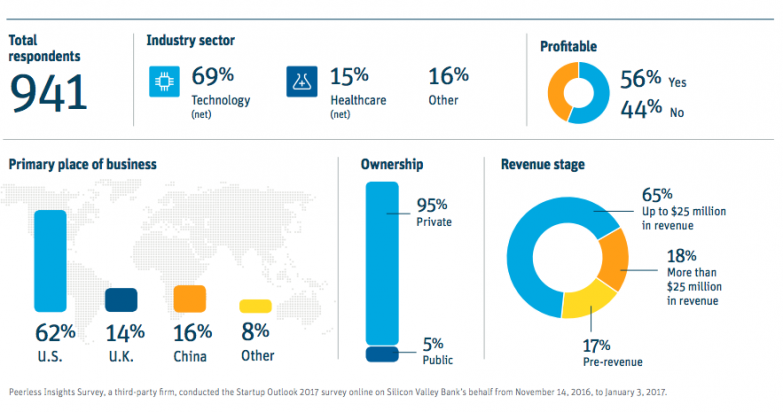 Check out a related article:
While 92% say business conditions in 2017 will be the same or better than 2016, this naturally optimistic group is less hopeful that this year will be better for their companies. Few think conditions will get worse, but the percentage of those who say business conditions will be "much better" in 2017 (21%) has dropped by nearly half since 2014 (39%). We chalk some of that up to uncertainty, as well as more realistic expectations following a healthy recalibration in 2016.
Key highlights of U.S. Startups Outlook 2017
88% of respondents believe it's becoming more difficult for startups to raise funds in 2017, up 7% from 2014.
51% of startups rely on venture capital (VC) as their next source of funding versus 42% last year; only 8% believe in organic growth and 9% rely on private equity.
53% of startups view M&A as their long-term goal and most likely exit strategy, while 16% are getting ready for IPO.
50% of survey participants believe there'll be more M&As in 2017 than last year.
79% of startups are planning to increase their workforce during 2017 versus 2% of those planning to reduce staff.
90% of respondents say finding talent is challenging or extremely challenging. However, last year this number amounted to 95%! While it's too soon to call it a trend, but it does appear that the very tight labor market has loosened a little. Innovation executives say the lack of skilled workers inhibits product development and makes it difficult to scale operations.
When asked about what most important public policy issues affect companies like theirs, the following answers were received:
Access to talent (53%)
Healthcare costs (40%)
Cybersecurity (34%)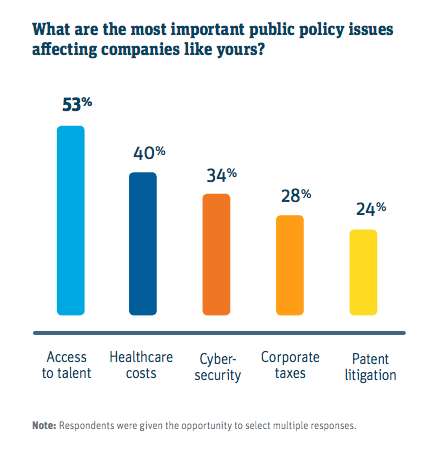 When asked whether or not U.S. laws and regulations materially affected their company's decision to locate facilities or hire employees for operational non-sales activities outside the U.S., 26% of respondents, or 1 in 4,  replied with "Yes".
Check out a related article: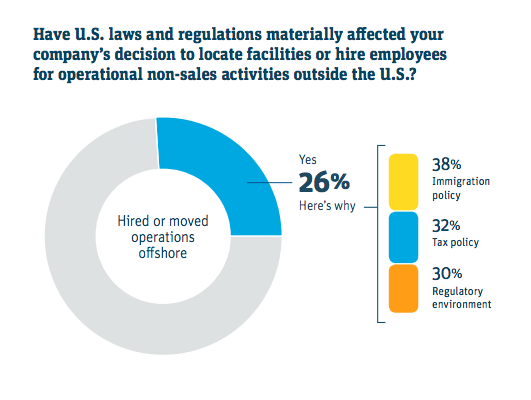 It was also found that pre-revenue startups were more likely to leverage international IT talent pools and facilities.
Source: U.S. Startups Outlook 2017 
Are you a startup looking to hire IT talent and PM resources for your in-house / offshore project fast and with no IT, HR and admin hassle?
Get in touch now to discuss how we can help!