App Annie says mobile games account for 70-80% of all app store revenues, and the best-selling games usually earn their owners thousands of dollars a day. So, even if you don't have any game development plans, you can at least learn from successful game developers how to monetize your apps and acquire more loyal users.
Mobile games are a far cry from the classical console or PC games. The key differences underlie in the nature of mobility : a smartphone is always handy, but rather a small screen size and absence of the physical controls make it hard to spend long hours playing games. Therefore, frequent but short play sessions are very typical of mobile gaming.
All mobile games are actually based on the three building blocks:
Check out a related article:
Visual level - game setting and UI, process visualization, game responses to user actions
Gameplay - the process of gaming
Game structure -  everything that is built around the gameplay, and namely: game plot, game drive, internal economy, competition, social, PvP and other mechanics, etc
Good news for mobile app developers is that one game can actually be turned into several new games, and for this to happen all you need to do is just to change it at one of those 3 levels. Let's review some industry best practices. By changing the visual level and gameplay, King has created Candy Crush Sag, Farm Hero Saga and other games, and by changing the visual level alone, Kabam has released several clones of their Kingdom of Camelot.  Angry Birds Go and Angry Birds Epic are just clones of the original Angry Birds (same setting, different gameplay and structure). Why do developers do it? To achieve long-term user engagement which is one of the main requirements for effective mobile games monetization. User retention is important, as it's really hard to monetize a game if users lose their interest in playing it. So, retaining users and enticing them to play the same game for months and years is one of the key challenges facing app development company nowadays when the competition in the gaming categories is very tough across all known app stores.
Read more about ios development.
Effective long-term game monetization is NEVER built on visual and gameplay levels. It is embedded into the game structure and that's exactly where most of game developers lag badly behind - while investing heavily in UX and graphics design, they oftentimes start plugging monetization into the game at the final stage of game development which is ultimately wrong. And monetization is largely based on the game progress, not its beauty!
Our analysis of top grossing mobile games shows that 90% of them fall into the below structures (excl. online casino roulette and paid games):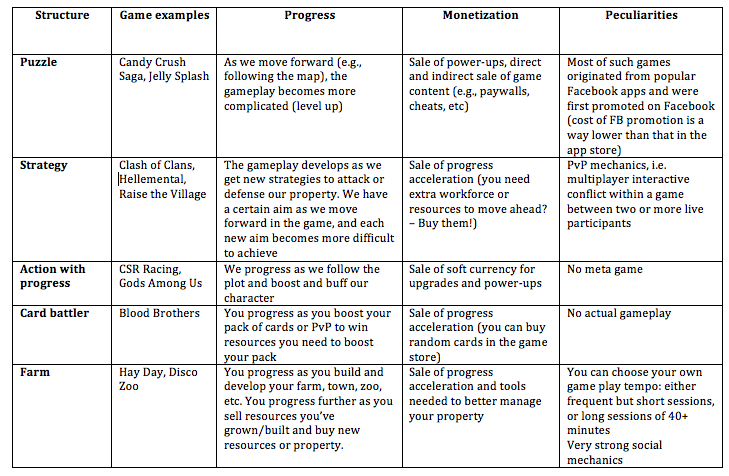 Our research has also demonstrated that all top grossing gaming apps have two things in common:
Check out a related article:
1. Game as a Service (GaaS)
A mobile game becomes your parallel world that exists even when you shut down the app, because at this very moment someone is trying to conquer your village, steal your resources or outperform you. It resembles the social media effect when checking Facebook is the first thing you do in the morning and the last thing you do before going to bed.
2. Game progress 
If your game doesn't envision player's progress, there's actually nothing to monetize! It's very important that your user progresses at all three levels: visual, gameplay and structure.
Progress acceleration is what you eventually monetize! As we move forward in a game, we want to accelerate, and as we accelerate once due to in-app purchase, we'll continue purchasing more and more - that's just our psychology. And recurring purchasing is the fundament of any successful businesses!
Yet, it's also important to keep progress balance so that your player doesn't reach their goals too fast or too slow, as both can encourage them to uninstall your game.
Have a mobile game idea and want to determine its business potential? Feel free to sign up to Intersog's exclusive free project estimation sessions in Google Hangouts on 15-16 September 2014.