When you think of outsourcing enterprise IT functions, Mexico might not be the first country that comes to mind. In fact, these days the nation's name itself conjures up images of a huge wall that's yet to be built.
However, while the media has been focused on highlighting various political agendas, Mexico has been quietly working behind the scenes and growing its reputation as a technology heavyweight.
In 2019, the country has matured into a nearshoring hotbed for software development. With the endless shortage of tech talent plaguing North America, this couldn't have happened at a better time.
Check out a related article:
To help our customers build great software and solve their hiring challenges, Intersog opened an R&D center in Guadalajara. It will allow our clients to have access to top local developers without any admin or hiring hassle.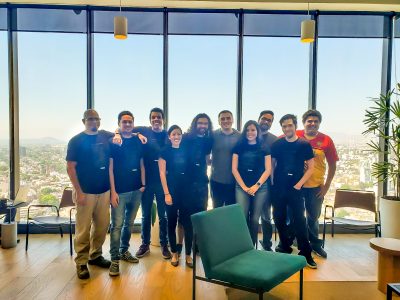 So, what are the advantages of building a team of software developers in Mexico?
Highly cost-effective
A large number of English speaking professionals
Mexico has invested heavily in STEM programs
The country produces more than 113,000 technology graduates every year
Low staff attrition rates
Close cultural and geographical proximity enables seamless real-time conversations (during agile development sprints)
The same high standards of professional services enjoyed in the US
More than 300 flights to major US cities daily
Strong government support for technology and innovation
While the advantages are quite apparent, it can still be challenging to put together a team in another country. If you haven't done it before, you won't even know where to start.
Time and again, US companies have managed to find low-cost technology service solutions in far-flung places like India and Eastern Europe, but they have been perfecting the process for decades. So the risk you would typically take on is far less as trust has already been earned over a long period.
So if you're thinking of putting together a talented team of software developers in Mexico, how should you go about it?
Will it be as simple as placing an ad on OCC Mundial or Bolsa de Trabajos – CompuTrabajo México? Well, not quite, but that's a good place to start.
Check out a related article:
Before we get ahead of ourselves, you have to figure out what you're trying to achieve. Is it a one time project or are you looking for something long-term? How you move forward really depends on the present and future demands of the project.
Build a Team Based on Project Requirements
If you're going to embark on a project that's going to demand a significant amount of work over many years, it's best to partner with a local software development outsourcing provider or set up a legal entity on the ground.
What are the advantages of setting up your own company?
You can closely monitor the quality of work
You can implement coding standards, methodologies, and tools
You can influence the working culture of the team
What are the disadvantages of setting up your own company?
Setting up shop in a foreign country isn't easy (yes, there will be a lot of legal considerations)
You'll have to take local employment legislation into account (and at times it can be very different from the US)
It'll take time to build your reputation locally so this can be challenging to attract and retain talent
What are the advantages of partnering with an established nearshoring partner?
You can leverage your partner's reputation and talent pool to build your development team quickly
Enjoy increased flexibility to augment your team based on present demands
Benefit from running a project in a predictable manner with highly trained software engineers and domain experts
Leverage service level agreements
What are the disadvantages of partnering with an established nearshoring partner?
It can be challenging to identify a third-party service provider that will be a good fit
The wrong partner can quickly complicate your project (so doing your homework is a must!)
For both large and small projects, there is no such thing as an optimal size. While "two heads" will certainly be better than one, you also don't want to complicate matters by unnecessarily hiring too many professionals.
In our experience, for most projects, a software development team consisting of five to ten engineers will suffice. However, if your project demands a larger team, it's best to split them into several smaller groups.
To avoid conflicts, you'll need to hire a project manager who will coordinate between all the groups to get the best results. This is true regardless of whether you go it alone or partner with a nearshoring provider.
Assigning Roles and Distributing Responsibilities
Once you have your team in place, you need to focus on ensuring quality by building a fully functional team. The key here is to work with balanced groups of professionals who can manage each iteration autonomously.
A traditional software development team is made up of the following professionals:
1 Project Manager
1/1 - UI/UX Designer
1-2 Frontend Engineers
You'll also need a Chief Architect, Product Owner, and a Team Lead.
The above can vary depending on your project requirements and business goals. In the long-term, these software developers can also cross-train and shuffle between teams based on present needs or personal interests.
While Mexico sometimes gets a bad rap for being riddled with violence, most of the country is actually safe. In fact, technology hubs like Guadalajara, Hermosillo, and Monterrey are just about safe as any city in North America.
Today, there are over 2,000 IT companies (including startups and multinationals) based in Mexico and outsource almost half their back office functions. So it's safe to say that you won't be taking on any unnecessary risk by working with Mexican software developers.
Do you have any questions about hiring Mexican software engineers? Feel free to reach out as our staff will be more than happy to share their experience.