Mobile gamification is a data driven motivation strategy that can enhance productivity. As more managers look to incorporate gamification and engage their employees, you can expect gamification to transform the workplace in the months to come.
Gamification is all about tapping into the underlying motivators that we all share. It's all based in behavioral research which shows that satisfying these fundamental motivators can increase employee productivity, unlock potential, and increase marketing ROI.
There is a pretty good chance that you have already experienced gamification on websites and mobile platforms. Recognized brands such as Linkedin (profile completion bars) and Stackoverflow (reputation points) are all using gamification to enhance the user experience.
Check out a related article:
Important Motivators
• Autonomy (control)
• Mastery (improvement)
• Purpose (making a difference)
• Progress (achievement)
• Social Interaction (connection)
However, these five motivators are not enough to achieve success with gamification. A brand needs to figure out how to link increased engagement with the increased productivity of the company. The best way to do this is to create a gamification platform that is directly linked to your company's goal.
Types of Gamification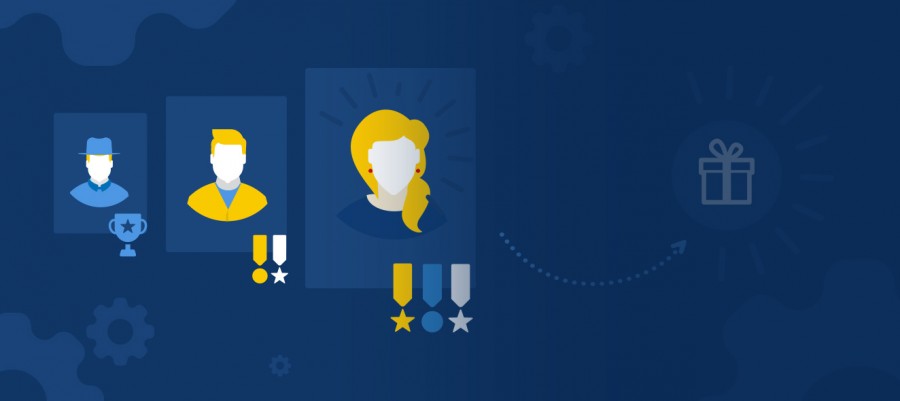 Gamification is nothing new as we have been using it for years with loyalty cards, frequent flyer miles, and discount cards. It can involve any of the following types of gamification strategies:
• Leader boards
• Levels
• Badges
• Points/Virtual Currency
• Progress Bars
• Personalization
Data-Driven Gamification
Gamification uses data to motivate increased productivity. In the modern world what used to be driven by memos and meetings are entirely managed on internal platforms. As a result, an enormous amount of data can be generated daily and used to create engaging experiences. By driving business results and employee performance, gamification easily creates a competitive advantage.
Check out a related article:
Gamification can be used in any industry and it is sustainable. For example, the financial services company Sun Life developed a management tool called money Up. By engaging their employees in an online educational platform, Sun Life was able to increase financial literacy of the workforce, improve savings and retirement participation, and general productivity. These gradually challenging but attainable goals saw a 33% increase in retirement contributions or adding a new product by those employees who had completed Level 1. Further, out of those who added a new product, 88% added new asset plans. Overall, the participants increased their contributions by 74%.
Gamification in Marketing
Gamification can also be used to drive sales. If you look at the fast food giant Wendy's effort to drive awareness and sales, you can witness this philosophy working. The company was able to create viral awareness of their new Natural Cut Fries, generate social high-fives, and in the end sold a lot of fries.
Gamification was used by the Coca-Cola Company to increase customer loyalty. Focusing on young consumers, the company developed a loyalty program that communicated happiness. They encouraged repeat visits to their website and encouraged users to share content. As a result the community also started to grow and the brand expanded to offer exclusives and advance access to happy customers. In Japan, the company took it a step further to increase engagement at vending machines.
Startups and Gamification
Startups also can benefit from gamification as it can provide for better product advocacy, adoption, and engagement. But the tactics are usually different when it comes to startups as they usually focus on social media, mobile, notifications, and loyalty to be successful.
One startup that used gamification successfully was Codecademy which was founded in 2011, raised $12.5 million by 2012, and is used by over a million people who are learning code. This is a good example of a business using gamification at its core to drive business goals.
Over the past 5 to 10 years, gamification has evolved to be an effective motivational tool. What will be a crucial differentiator in the workforce of the future will be effectiveness of a company's gamification tools.
As everyone seeks to optimize their workforce with gamification software, it is important to partner up with the right company to achieve your goals.
Does your company have a gamification solution? Contact us now and we can build one for you!