White Paper: Internet of Things (IoT) In a Nutshell
The Internet of Things (IoT) solutions of yesteryear have typically been industrial in nature and done on devices that likely don't have screens, but have a low-power processor, an OS, and communication via one or more protocols. They connected machine to machine (M2M) through the internet or an Internet gateway device to create automation, tracking and other general communication connections.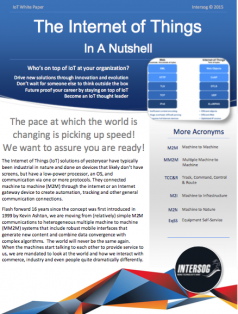 Flash forward 16 years since the concept was first introduced in 1999 by Kevin Ashton, we are moving from (relatively) simple M2M communications to heterogeneous multiple machine to machine (MM2M) systems that include robust mobile interfaces that generate new content and combine data convergence with complex algorithms. The world will never be the same again. When the machines start talking to each other to provide service to us, we are mandated to look at the world and how we interact with commerce, industry and even people quite dramatically differently.
One of today's greatest IoT challenges is in establishing industry standards as well as finding expertise to provide thought leadership and advisory and help organizations build their IoT roadmaps. Tools' providers and platform "experts" are popping up everyday to capitalize on the momentum that is IoT.
Check out a related article:
There are so many options from ready- made platforms to custom solutions that the landscape becomes quite mind-boggling. Regardless of whether you start with a ready-made or custom solution, here are the basics required for an IoT solution:
Gather – gather data thru the usage of sensor nodes
Process – send data thru processing sequences and produce outcomes
Transport – send raw data and/or outcomes to another device. Typically defined under two main types: publish/subscribe or request/response
Function – functionality based on set parameters, determined by algorithms and data inputs/outputs
Data – produce data that is utilized for IoT function or analysis (analytics)
UI – the interface to which the device/equipment is monitored, controlled, provisioned, routed, diagnosed and collected data display.
With this in mind, Intersog releases a new white paper called "Internet of Things In a Nutshell" that aims to explain IoT essentials, what users expect from IoT solutions and how business can benefit from providing these solutions to end users.
In particular, our white paper addresses:
IoT use cases for different industries including aviation, agriculture, home automation, healthcare, manufacturing, environmental, consumer electronics, etc.
Two categories of IoT apps and how they differ
API layers and management
Nodes, communication layers, intelligent gateways
Data production, collection and analytics
Security
Request your copy of our "Internet of Things In a Nutshell" white paper