Have an interesting startup idea and need experienced entrepreneurs to evaluate it? Have no clear ideas, but planning to start own business in the future? Come over to the Odessa Advance Alumni Club and attend an interactive training session led by Vadim Chernega, our Founding Partner and VP Business Development. The event will take place in Odessa, on 31 January 2014, from 6.30 to 9 pm.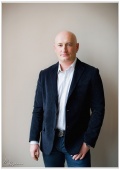 Vadim is a visionary tech entrepreneur with several successful and not so successful startups and businesses under his belt. Today, his businesses including Intersog, ComboApp, Webappy and dart117 operate successfully across the Globe, in particular in the United States, Canada, Germany and Ukraine.
The upcoming workshop will aim to shorten your time to business success by providing useful and practical tips and tricks of launching and running a startup, avoiding common entrepreneurial mistakes and developing own soft skills, managerial talent and charisma.
Check out a related article:
Here's the workshop agenda:
1. Successful startups  - what do they have in common?
2. From idea to business - when is the right time to stop hesitating and start acting?
3. SWOT - why and how? Each of us believes our idea is the best. This leads to the mistake when entrepreneurs ignore business instruments and rely on their own energy and business acumen alone. But how to ensure your idea is truly feasible and worth an effort?
4. Finance, resources and search for investors - own vs investor's money, venture funds and traps of external funding.
5. How to control expenditures and manage cash flows? - Bootstraping rules and how to make your startup profitable.
Check out a related article:
6. Sales and marketing - no matter how great you think your product is, its value equals zero unless you manage to market and sell it properly.
7. Startup is not yet business! What kind of employees do you need? How to select the right people? What should you be ready for prior to launching your startup?
8. Startup planning - personal experience vs business planning best practices, how to make ineffective time effective, what's the difference between entrepreneur's private and business time?
9. Fun matters! How to become a leader using fun?
10. Practical exercises: team brainstorm on startup ideas, SWOT analysis, startup project evaluation, etc.
Your ultimate takeaway from the workshop is a clear understanding of the startup viability and how to avoid fatal or mission critical mistakes that most of  startuppers are condemned to make.
Payment and registration information is available here. Looking forward to seeing you at the workshop!