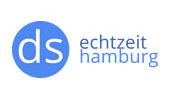 deutsche-startups.de, a community of German innovative startups and VCs, has been organizing Echtzeit events since 2008. Echtzeit is an exclusive networking and knowledge sharing meetup for entrepreneurs, business angels and investors in which 200+ people make new contacts, exchange ideas and discuss current hot topics on the German startups scene. The event is held across different cities of Germany including Berlin, Cologne, Munich, etc.
We're pleased to announce that we'll be sponsoring a series of Echtzeit meetups during 2014 and will start this initiative with Echtzeit Hamburg to take place on February 5, 2014. Event attendance is only possible via invitations from members of deutsche-startups.de.
Going to the event? Please book a meeting with our Country Manager DACH to learn more about Intersog and how we can help you jumptstart your project, get additional tech resources, speed up time to market, reduce software development budget, etc.
Check out a related article:

We're looking forward to a great event with many interesting guests and thought-provoking conversations.