Intersog will be hosting a JavaScript Hack'n'Tell in Odessa (Ukraine) on May 16, 2015 in our creative space Peoplarium. The event will be held in partnership with the open art shop Clan-P and will aim to gather JS professionals, enthusiasts and wannabes for networking, knowledge sharing and fun.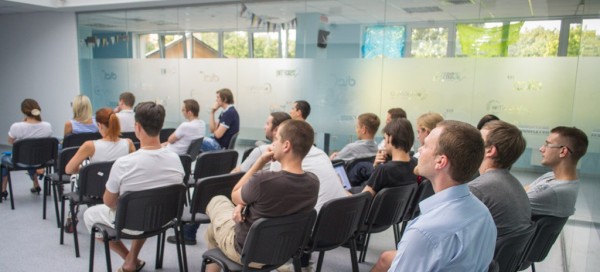 The Hack'n'Tell will address the following topics:
Check out a related article:
WebComponents + Material Design= Polymer
ES6. JavaScript evolution
Isomorphic React.js
Reactive angularjs
Mobile applications in a new way with React Native
We already have 160+ registrations and invite you to reserve your spot now, as seats are limited!
Detailed information and registration are available at Hack'n'Tell website.
Snacks and entertainment are included, cool takeaways and surprises are guaranteed!
Tweet the event with #hack_n_tell #JavaScript #Intersog The most active tweeters will get a special prize!
See you in Odessa on May 16!
Update: our first external Hack'n'Tell went very well, see it for yourself!
Check out a related article: