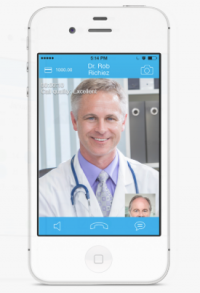 We're pleased to announce that Intersog's mobile development team has recently completed the successful beta deployment of phase 2 of an innovative eHealthcare video chat app for Video Medicine, Inc., the world's first mobile free-market doctor network founded by Dr. Charles Butler. To celebrate this critical milestone, Video Medicine, Inc. will host an app presentation event for investors and select media at San Francisco's Bourbon & Branch on October 11, 2014.
VideoMedicine is a HIPAA compliant telemedicine app that allows patients to connect with medical specialists using an innovative face-to-face video chat app. Patients can speak with physicians and psychologists to get advice, learn about treatments/diagnoses and even get a prescription in some instances. Patients can send relevant notes and high-resolution photos to the doctor as well as make appointments right from their mobile devices. The app differs from competitors in that it allows patients to select their own doctor from a network that provides access to world-renowned medical specialists and features a flexible minute-by-minute billing system (patent pending) that even allows a consulting doctor to comp time for a patient.
The brand and app gained international attention when VideoMedicine ambassadors Jason and Moon Ray became overnight "tech celebrities" for promoting the app by camping out in front of the New York City Apple store for 19 days prior to the launch of the iPhone 6. The couple used their position as #1 and #2 in line to purchase the new iPhone as an opportunity to promote the VideoMedicine app BETA phase to the media and interested parties.
Check out a related article:
About Video Medicine, Inc.:
Video Medicine, Inc. is the world's first mobile free-market doctor network. The company invites top-quality U.S. licensed doctors to join their program and become medical consultants for the VideoMedicine app. Learn more about Video Medicine, Inc. at https://videomedicine.com Follow Video Medicine, Inc. in Twitter & Facebook. View / download the app in iTunes and Google Play.