Ian Hickson, HTML5 specification editor, once said: "Languages and frameworks pop up, become fashionable and die out quicker than I can actually keep up." But it's not the case as far as HTML5 is concerned. Since 2009 this markup language has evolved from an infamous and immature html offspring to a commodity technology for both web and mobile development. Back in 2011, HTML5 was only used by 23% of businesses, according to the Sitepoint study (2011).
Also, 48% of companies polled said they would use HTML5 after it's become stable and 26% were going to use it soon. Last year, HTML5 was already used by 78% of organizations and was going to be used soon by 22% of respondents, according to Appcelerator/IDC study (2012). Strategy Analytics predict 1 billion HTML5 capable devices to be sold in 2013, as compared to 333 million sold 2 years ago. Today, nearly 60% of mobile app developers are seriously interested in HTML5 development.
This proves HTML5 to be quite a hot topic within the mobile space and the question is not whether it is here to stay, but how can HTML5 help create smart and cost effective solutions in the future?
Check out a related article:
1. HTML5 to boost mobile and gaming capabilities
HTML5 enables creation of interactive engaging apps and offers seamless integration of multimedia and graphical content to the web using 3d party plug-ins and flash. This is exactly what is going to make many online gamblers' dreams come true – a possibility to play anywhere any time. Games developer companies cannot rely upon native apps alone to be able to conquer the market. For instance, in case of PaddyPower, their big hit "Star Gambling" game is considered to be a great iOS development solution, but is out of Google Play or other app stores. It results in a huge market being cut out just because the company chose to stick to a native app.
HTML5 is standardized across all three major platforms and Blackberry and allows scaling between different devices such as desktops, tablets, mobile phones, smart TVs, etc (see pictures below).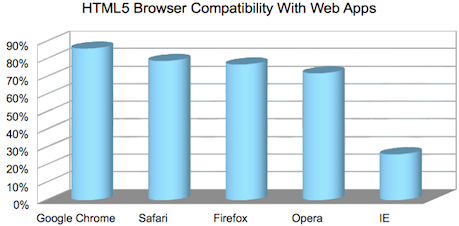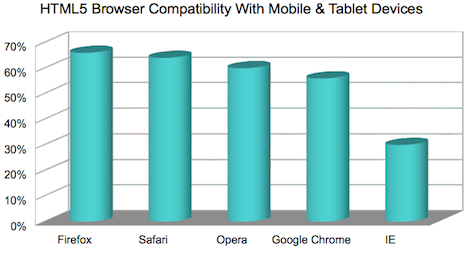 In the end of the day, gamblers don't really care what technology is used for making their favorite game. All they care about is whether it's available on their device or not. For now, there's no better alternative for cross-platform development than HTML5. Experts predict that during 2013 we'll see more enterprises migrating to HTML5 for mobile apps and games, as HTML5 capabilities improve. However, native apps won't die out either, at least not in a short or mid run. For instance, LinkedIn dumped their HTML5 solution and moved to a native app due to the lack of critical support for performance tools and debugging in mobile web apps. These gaps are yet to be filled in to turn HTML5 into a dominating web development and mobile technologies.
2. HTML5 to pay off time and investments into mobile
Unlike LinkedIn, the Financial Times (FT) doesn't see any drawbacks in working with HTML5 and fully relaunched their web app in early April 2013. They added more stripped-down design, more video and slideshow content, the ability for readers to switch from a static to a dynamic version with round-the-clock news updates, and more personalization features. At the time of relaunch the FT's digital revenues accounted for 30% of the total revenues and digital subscriptions overtook print circulation. With 15%-20% of new subscriptions and 12% of all digital revenues coming through mobile, the FT just couldn't afford to go with native apps and lose a lion's share of the digital media market.
Check out a related article:
"Anybody that's chosen to develop native apps in parallel [for different platforms] is now really struggling with the overhead of maintaining and developing them, " says Rob Grimshaw, Managing Director at FT.com. "Most of the savvy developers have switched to HTML5, even if they're still delivering those apps in a native wrapper. I don't think it will be long before a lot of those apps start emerging as pure HTML5 apps in browsers."
3. HTML5 to drive responsive design to go mainstream
With the lines between desktop and mobile devices being blurred in today's hectic digital world, mobile app developers will have no other choice but to build apps and websites able to dynamically adapt to a broad array of screen sizes and resolutions.
Being the backbone of responsive design features, HTML5 is getting more mature in terms of its functionality and speed. Both responsive web design and HTML5 allow developers to develop to a browser rather than a specific OS or device, so they allow creation of visual experiences that users can take across different devices.
According to Matt Groener, Development team manager at Intel Developer Zone, HTML5 development benefits all of the digital ecosystems because it allows fast time-to-market. "You don't create an iOS app and then, when time permits, bring it to Android or Windows. You can do it in any or all ecosystems at exactly the same time," says Groener. "It will only get better for developers as HTML5 matures, becomes faster and adds more features that put it on par with native application development. The future is more responsive rather than less responsive. I don't see that ever changing."
4. HTML5 apps to be supported as a VIP citizen
Todd Anglin, EVP Cross Platform Tools & Services at Telerik, predicts Chrome OS to be the biggest HTML5 development platform in 2013, followed by Firefox OS that has already scheduled to start shipping on low-end TCL and ZTE devices in Europe. A new html-focused platform Tizen currently enjoys broad industry backing from giants such as Intel, Samsung, Panasonic, Vodafone, Sprint and the Linux Foundation. It's regarded to be the most potential platform to challenge Android as a more customizable open source platform.
On the other hand, Blackberry 10 puts HTML and JavaScript at the core of their next-gen app strategy as well as Ubuntu Phone that is already basing their current mobile strategy on HTML5 solutions.
Sources: Universal Mind, 2013; VentureBeat, 2013; The Guardian, 2013; ReadWrite, 2013; Silicon Valley Watcher, 2013; Alt Communications, 2013