In Q1 2013, North American and EMEA gaming markets showed moderate growth rates of 2% and 4% respectively and both lagged behind Latin America and Asia Pacific with their 11% growth each.
Global game revenues are expected to reach $70.4 billion and show a 6% year-on-year (YoY) increase, while the number of gamers is likely to surpass 1.2 billion by the end of 2013, according to Newzoo's 2013 Global Games Market Report. General market trends presented in the Report are:
Latin America and Asia-Pacific will lead the way with 11% YoY growth each, while North America and EMEA will show moderate growth rates of 2% and 4% respectively;
Consoles remain the highest revenue generating platform that earned $30.6 billion in Q1 2013 and accounted for 43% of global games revenues;
PC gaming saw a 7% decline, while MMO gaming market grew 14% in Q1 2013. Revenues in both segments totaled $14.9 billion;
Tablets and smartphones generated 18% of the global game market revenue and surpassed $12 billion which is roughly double the amount spent on games for handheld consoles;
Computer Screens encompassing downloaded or boxed social, casual and MMO games generated 39% of all global games revenues, followed by Entertainment Screens generating 36%;
Personal Screens, or mobile phones, currently account for 12% of global games market revenues and generate $8.5 billion;
Tablets anticipate 78% user growth, while console games are expected to see a 21% decline during 2013;
There're 90.4 million gamers in the United States versus 62.4 million in the EU, with smartphone gamers accounting respectively for 50% and 42% of the total gaming population in these regions.
Further, we've compared the 3 countries surveyed previously by Newzoo – UK, Germany and the United States – to see how their gaming markets differ and what game developers should focus on while creating games for each of these markets.
Check out a related article:
More about mobile app development company.
Pic. 1: Number of active gamers in the UK, Germany and USA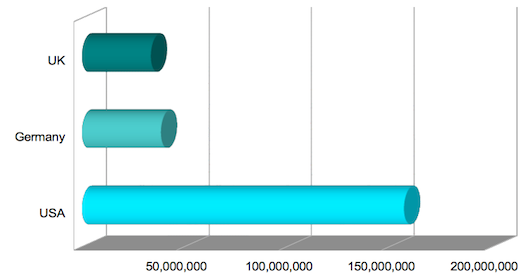 As estimated by Newzoo, the UK population of active gamers is 33.6 million, in Germany there're 38.5 million gamers and in the United States there're 157 million gamers as of beginning of 2013.
Pic. 2: Gamers per platform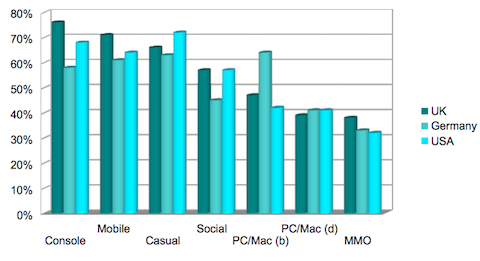 Check out a related article:
In the UK, the top 3 platforms are console, mobile and casual that together account for 70% of all gamers. Console games are still the most played ones, as reported by 76% of the UK gamers.
In Germany, the top 3 platforms are PC/Mac (boxed), casual and mobile accounting for 63% of all gamers. PC/Mac is keeping 64% of the user share.
More about ios app development in Chicago.
In the United States, most gamers - cumulative 68% - are spread across casual, console and mobile platforms, with 72% users preferring casual games.
Pic. 3: Money spent on games, in billion (UK – £, Germany - €, USA - $)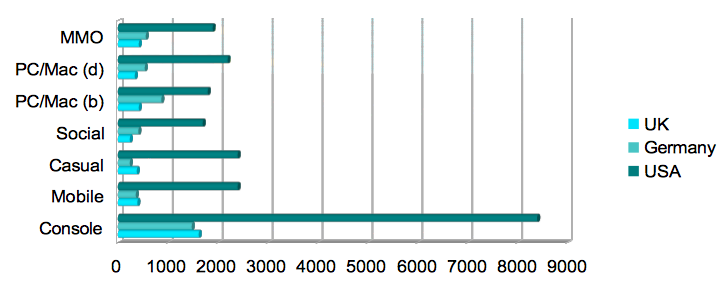 Newzoo reports consoles to account for 43% of all money spent on games in the United Kingdom, and 1/3 of all gaming money in Germany and the United States. As of Q1 2013, mobile games earned £390 million in the UK, €360 million in Germany and $2.4 billion in the USA.
Social gaming remains the most underspent platform in all three countries surveyed.
Pic. 4: Gamers vs screens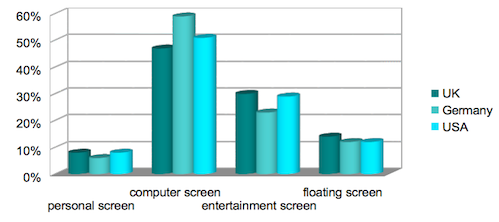 Read about our mobile app development.
Newzoo Report shows the UK has been a quicker adopter of cross-screen gaming than all other EU member states and the United States. 26% of UK, 17% of German and 22% of US gamers play on all 4 screens, as seen from the Report. Computer screens remain the most played ones, while personal screens are only gaining traction among gamers.
Future gaming market growth in all 3 countries surveyed is expected to come from smartphone and tablet games in combination with the free-to-play business model.
Source: Newzoo, 2013
Picture courtesy: itfiles.ro