Having been released less than a year ago, Windows 8 has already become one of the most discussed OSs both on the mobile and PC markets, as it is really the first OS designed for and available on all devices – desktop and laptop computers, tablets and smartphones.
Notwithstanding the fact that Windows 7 is still the most popular OS as far as PCs are concerned, Windows 8 has already left Vista behind with more than 100 million licenses for Windows 8 sold this year.
Being the first touch-optimized operating system, Windows 8 is expected to become even more popular with the new touch monitors (announced by Samsung) and laptops with touchscreens (already available).
Check out a related article:
Windows 8, as all mobile OSs, has Windows Store with more than 170,000 apps and games. Though this number is far less than what Apple App Store and Google Play feature today, this is already more than App Store had in the first year of its mobile application development. As to the actual Windows 8 apps usage, 2 billion apps downloads in Windows Phone store speak for themselves.
Plus, the revenue sharing system is even more flexible: Microsoft offers the highest revenue sharing percent to developers – up to 80% when you reach 25,000$ in revenue.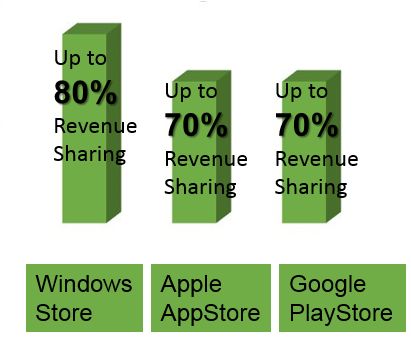 At the same time, Windows Store still lacks many popular apps that are available at App Store and Google Play Store. And this is both a drawback and an opportunity – as the market is not so occupied and everyone can create and develop mobile app and fill this gap – with 100 million users, there's certainly a demand.
If you still have doubts whether or not to develop for Windows 8, check out this report:
Check out a related article:
Windows 8 app development from INTERSOG