Many event organizers today tend to be (or at least want to make an impression of being) innovative and, thus, oftentimes create mobile or web apps for event visitors to facilitate their attendance. Developing such an app doesn't really cost much, there're a lot of automated app builders out there that help build a simple app with basic features such as meetings pre-booking, agenda view, schedule planner, etc. You don't really have to be a techie to create such an app. You simply buy a subscription and drag-and-drop features you want to embed into your application.
Read more about mobile app development.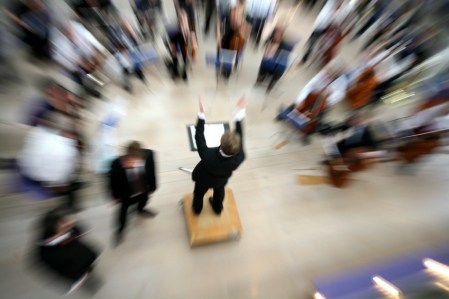 Check out a related article:
However, we, as a software development company, exhibit at local and international IT events quite often, and I should say - most of event organizers usually underestimate or fully ignore the importance of offering a fully-featured functional mobile and / or web app to businesses that showcase their expertise, products and services at events. Yet, we need these apps as much as event attendees do! In the last 12 months Intersog participated in around 10 different IT events in Europe and the United States, and exhibited at 4 or 5 of them. And I personally don't remember a single time we were provided with a professional app to facilitate our event preparation and participation hassle. And if you've ever exhibited at events - you know what I mean. You need to make dozens of arrangements before, during and after the event: from purchasing an exhibition spot, floor carpet, sockets, Wi-Fi access and other tiny but mission critical things to ordering a storage for your booth and managing leads in a real time. In the best case scenario, we got access to a web portal where we could manage some of these things, but always had trouble viewing it properly on mobile. In most other cases, we only got links to many different portals and couldn't keep all of our arrangements in one hub.
To give you an example, let me share Intersog's latest experience as an event exhibitor. We participated in one local business event in Chicago just a few days ago, and our event preparation experience left a lot to be desired! Every day before the actual event we received a pile of emails telling us to:
go to link A to register for participation (on a 3rd party portal)
go to link B to pay for having a Stand
go to link C to list our company in an exhibitor directory
go to link D to place our print orders
go to link E to download a lead scanner app (that was full of bugs, by the way)
go to link F for advanced shipment
go to link G to register our booth staff
go to link H to register for our exhibitor badges, etc, etc.
But what was even more irritating is that we had to create a new account each time we followed a new link, and this whole process seemed to be endless and was about to discourage us from participating.
Ideally, an exhibitor should be able to manage all of the above in one place with just one account without having to disseminate efforts across a hundred different sites. By offering a professional and easy-to-use exhibitor focused web and/or mobile app, any event organizer will make life easier both for exhibiting companies and own staff that won't have to manage many different accounts and will be able to keep track of each exhibitor in just one place.
Yet, creating a professional event app for exhibitors is obviously more expensive and time consuming than using a customizable  template-based app builder, as you need to add a lot of complex features (such as badge barcodes scan), integrate it with 3rd party solutions (such as Eventbright) and social media, install an eCommerce engine and payment gateway to process payments, and many others. But it's worth an investment when your reputation as an event organizer is at stake, isn't it?
I doubt we'll ever agree to participate in the above mentioned event if we have to repeat all of those life-complicating things again. At the end of the day, it's not only attendees who need convenience when visiting the events; exhibiting companies need convenience managing their participation, too!
Check out a related article:
So, event organizers, are you ready to disrupt the latest technology to provide better event experience to all parties, not only attendees?