DOU.UA, Ukraine's biggest online community of IT specialists, and Bionic Hill, Ukraine's first Live-Work-Learn-Play Technology Park, have recently conducted a joint research on the lifestyle of modern Ukrainian IT specialists. Researchers polled 1,800 IT guys from the 5 largest cities (Kyiv - 45% of the sample, Kharkiv - 16%, Lviv - 10%, Dnipropetrovsk - 10% and Odessa - 4%) where most of Ukraine's IT universities and colleges are concentrated. The research helped portray an average Ukrainian IT geek and explore factors impacting their choice of job.
So, based on the poll results, an average Ukrainian IT guy is a married man between 26 and 34 years old who lives in a big city, rents an apartment and has no car. He's a full-time employee who aims for high salary and an interesting job and doesn't want to migrate from Ukraine.
See more in a picture below (click to enlarge).
Check out a related article: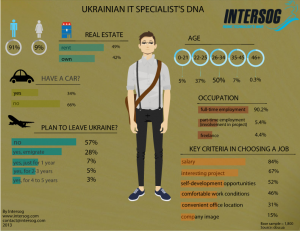 Read more information about mobile app development on intersog.com.
Source: dou.ua, 2013