Online community of the Ukrainian IT crowd, DOU has recently conducted a survey in order to draw a general portrait of the average Ukrainian IT specialist in 2016 and see how it compares to last year. DOU has polled over 8,000 software developers, testers and project managers, i.e. each 12th specialist working in the national IT industry as well as IT outsourcing.
Let's see how the Ukrainian IT crowd looks like in 2016.
1. Age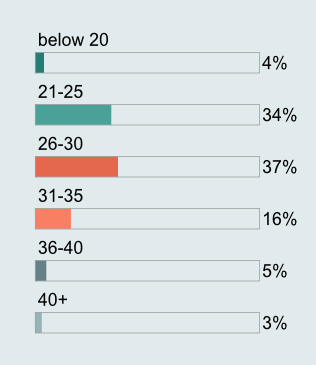 Layout designers appear to be the youngest group of IT employees, while tech leads, PMs and IT managers comprise the oldest group.
2. Gender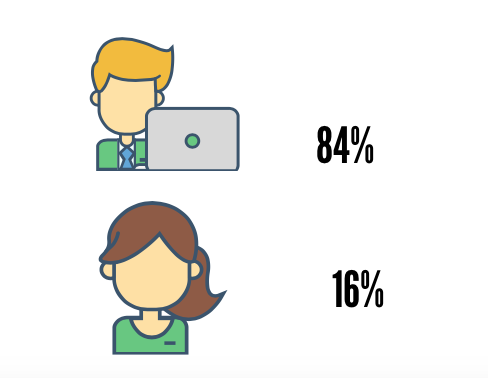 Good news is that more women are entering IT workforce in Ukraine and the annual increase in female IT specialists amounts to the stable 2% YoY. Back in 2013, each 13th IT employee was female, in 2014 - each 12th, in 2015 - each 7th and this year - each 5th. The most common professions among women are web / UX designers, QA engineers and testers and business analysts (BAs). Ladies in Ukraine rarely choose to be system administrators and coders.
3. Location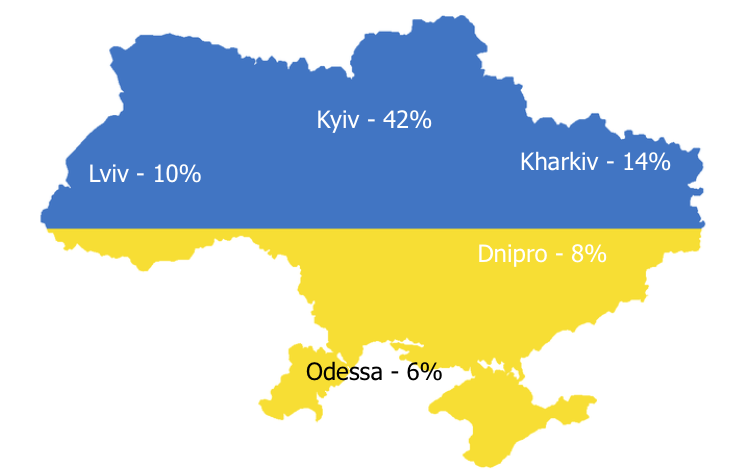 80% of Ukrainian tech specialists live in Top 5 cities inducing Kyiv, Kharkiv, Odessa, Lviv and Dnipro. However, Top 5 cities are losing their share of the IT talent pool on a YoY basis. In comparison, in 2015 Top 5 cities employed 84% of the national IT workforce. This finding suggests that regional IT markets are catching up slowly yet steadily.
Of all 5 cities, Dnipro holds a major share of the female IT workforce: women account for 20% of Dnipro's IT crowd.
4. Job roles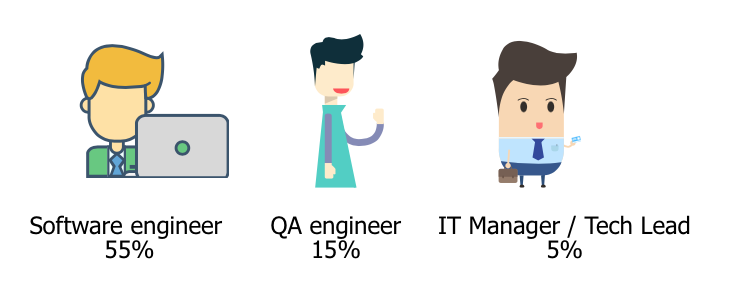 On average, one QA engineer tests apps developed by 4 programmers, and one PM manages a team of 11 software developers and 3 testers.
5. Experience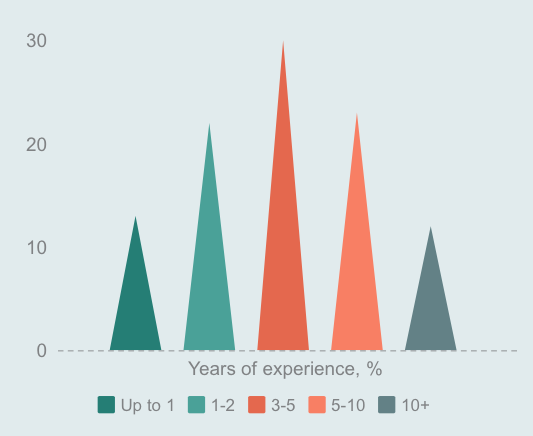 If we compare average IT specialists' age and years of experience, we'll see that 3% of IT workforce joined the industry after turning 30.
6. Competence level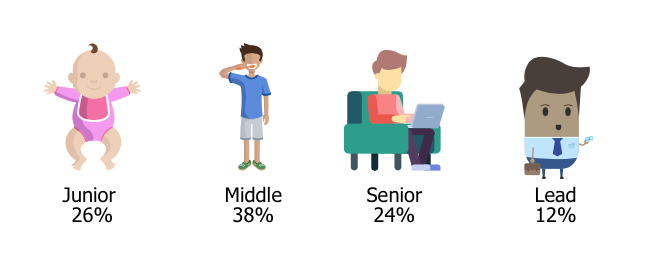 Folks with 2-3 years of experience in IT consider themselves as middle developers, and specialists with 5+ years of experience refer to themselves as senior developers in Ukraine.
7. Why IT?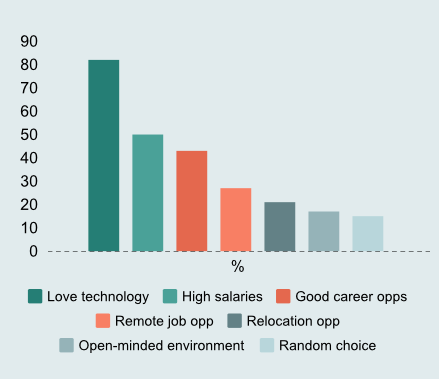 8. Factors affecting job choice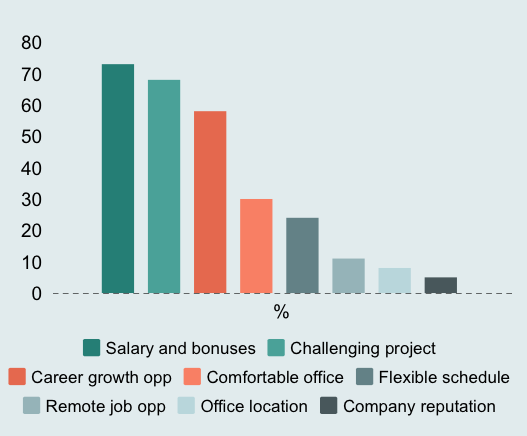 As seen in image 7, 82% of Ukrainian IT specialists chose to work in IT at the call of the heart. However, there're certain factors that affect their choice of the employer / project. And as seen in image 8, most of these factors are material. High salary is the most frequently cited factor. Yet, the importance of this factor has slightly lowered compared to the last year (73% in 2016 vs 85% in 2015).
9. Satisfaction with the current job / project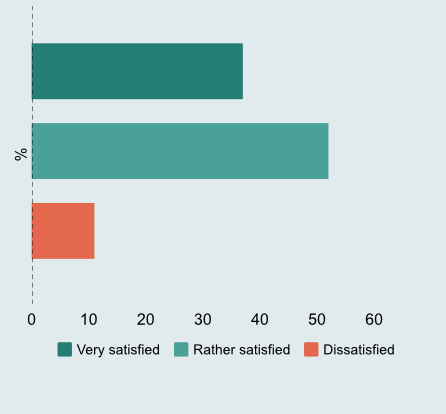 Top managers, designers and PMs are among those who're very satisfied with their current job/project, while sysadmins comprise the least satisfied cohort.
10. Salary satisfaction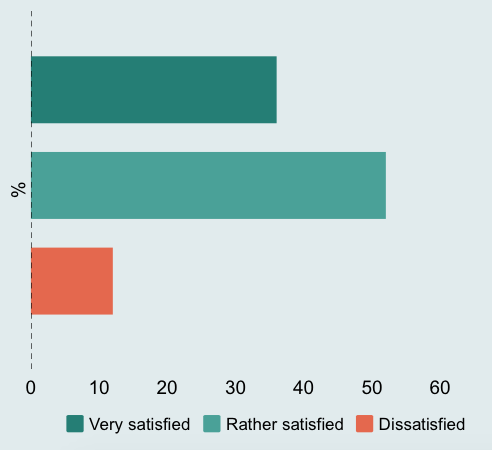 IT managers and PMs are most satisfied with their current remuneration; software developers and testers satisfied rather than unsatisfied, while sysadmins, BAs and designers are dissastified with their current pay.
11. Education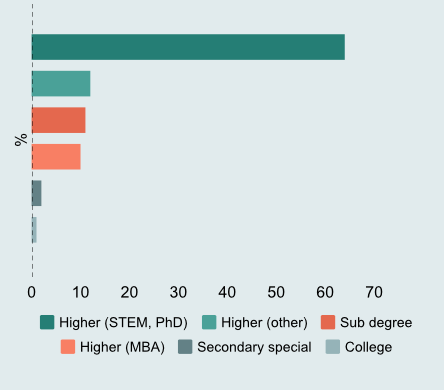 More than half of all Ukrainian IT specialists polled by DOU have higher professional education. A thought-provoking trend observed by DOU is that developers with non-technical or secondary special education have more interest in their job and IT in general than those with professional education. It can be attributed to the fact that such people have to learn a lot of new stuff on the go while working on real-life projects and, thus, feel more excited in their job.
12. English language skills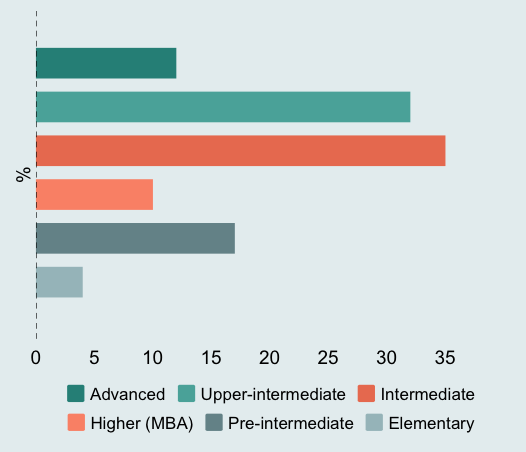 80% of Ukrainian IT specialists speak advanced and upper-intermediate English. No surprise that IT managers, PMs and BAs have full professional proficiency, while most of software developers and testers speak intermediate English.
A direct dependency has been observed between English language skills and salary/job satisfaction: the higher the level of English, the higher the level of satisfaction with salary and job in general!
13. Migration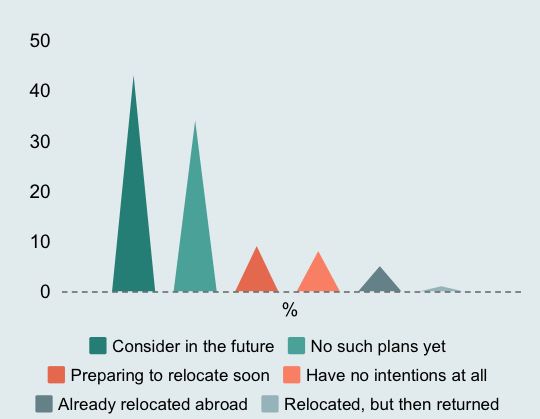 It should be noted that the percentage of Ukrainian tech specialists with absolutely no intentions to relocate overseas has dropped from 20% in 2015 to only 8% in 2016! It's an alarming yet manageable statistic for the Ukrainian IT industry. Considering some of the reforms that are being in progress now as well as strong consolidation of the regional IT clusters, the chance is high that next year we'll see a lower number of specialists planning to leave Ukraine.
14. IQ
Now let's see how the average IQ of Ukrainian tech specialists compares to other countries (source: IQ Research, 2016):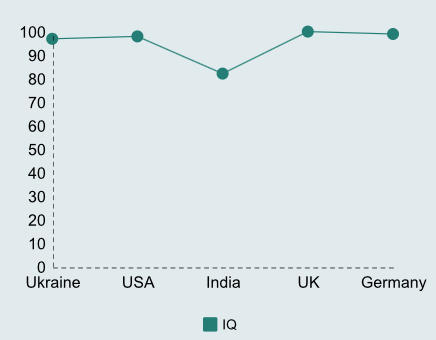 Ukraine - 97, United States - 99, India - 82, United Kingdom - 100, Germany - 99.
Conclusion
In general, the average Ukrainian IT specialist matches the essential elements of the strong IT personality that's comprised of: 25% education, 40% experience, 20% communication and 15% mentality.
And how does IT crowd look like in your country?
Are you looking to hire Ukrainian software developers for your offshore/nearshore project?
Let's talk NOW!