In an attempt to track the contours of the outsourcing landscape, A.T. Kearney has released the 7th edition of their Global Services Location Index 2016. The research agency evaluated 55 countries across the 3 major categories: financial attractiveness, people skills and availability, and business environment. Having assessed each country with 38 metrics, A.T. Kearney has identified those with the strongest underlying fundamentals and capabilities to deliver quality IT, BPO and shared services solutions.
In the 2016 ranking Ukraine has significantly improved its position as an IT outsourcing (ITO) hub moving up 17 positions. Currently, it ranks 24 and makes it to Top 25 best countries for global services delivery (see below).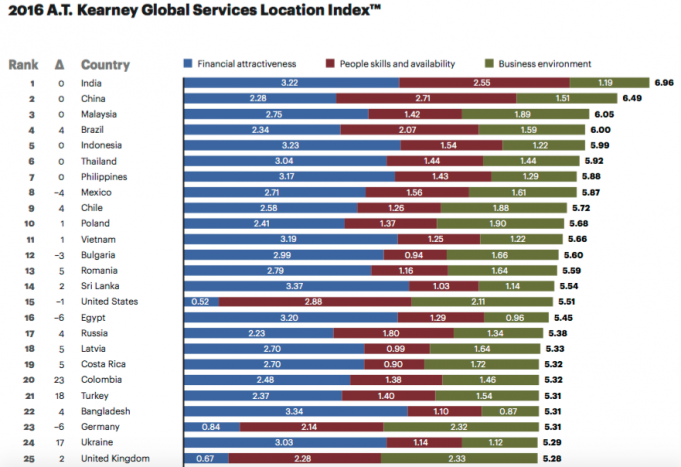 In its comment about Ukraine's improvement in the ranking, A.T. Kearney said:
The country has moved up 17 positions in the GSLI, as currency depreciation led to a major gain in its compensation cost score, accompanied by improvement in the competitiveness of its tax and regulatory costs. The increase in political risk is partly o set by the government's implementation of reforms that boosted the country's competitiveness.
The Ukrainian IT industry comprises more than 500 outsourcing service providers and over 100 global R&D Centers, and employs more than 70,000 IT professionals. This number is expected to grow to 180,000 by 2020.
Just a reminder, in 2015 Ukraine ranked 33 in Top 50 Innovative Countries. Also, check out some of the Ukrainian Tech Salaries as of October 2015.