I've recently come across a very interesting article in the print issue of the Connected World magazine about how innovative car companies are currently envisioning the future of the Connected World. It inspired me to do some additional research on how the world's biggest automotive brands contribute to the evolution of the Internet of Things (IoT). Below is my list of the most exciting and promising M2M integration cases as of today.
Honda Smart Home US
In spring 2014, American Honda Motor Co. opened a fully furnished residence and research lab on the West Village campus of UC Devis (University of California) called Honda Smart Home US. The Home is equipped with a Honda-developed energy management system to control heating, cooling, lighting, and other systems. The Home is also fully integrated with Honda Fit battery electric vehicle (EV). "The company pursued a project in part because it wanted to demonstrate the connection between the home and the vehicle," says The Home's Project Leader Michael Koenig. In particular, with this project Honda sought to explore how this interplay can help reduce US consumers' carbon footprints. Since light-duty cars and homes are the two major sources of CO2 waste contributing to about 44% of greenhouse gas emissions all over the United States, both became subjects of the Honda M2M experiment.
Read information about mobile application development services.
Check out a related article:
The smart home produces enough solar energy to power Honda Fit EV for all daily commutes. When operating at full capacity, the Home's solar panels are able to fully recharge the Fit EV in just 2 hours to give it 82 miles of drive. "The reason to integrate the house and the car and not to view them as separate pieces is that they're definitely more valuable when they're integrated than they are individually," explains Michael Koenig.
Such integration proves to create value in the following ways:
By impacting consumers' bottom-lines
By letting users 'save a ton' on transportation costs
By enabling a car to operate as a backup generator
Ford MyEnergy Lifestyle
MyEnergy Lifestyle is a "proof-on-concept" on how the typical US middle-class family can reduce their electricity bills by integrating  plug-in vehicle technologies, appliances, and solar energy. In Ford's view, there're several major factors that drive this convergence and make the energy saving Connected World both possible and plausible:
Proliferation of residential smart meters
Simultaneous development of time-of-use (TOU) utility business models (e.g., a smart fridge does ice making or defrosting at night when energy costs are lower), and others.
Do you need assistance building a cost-effective IoT solution?
SIGN UP FOR INTERSOG WORKSHOP NOW!
In 2013, Ford partnered with homebuilder KB Home to showcase a zero-net home in San Marcos, CA, similar to the Honda Smart Home US. Georgia Tech predicts these experiments will reduce energy costs by 60% and reduce CO2 waste by 50% in the mid to long term.
Mitsubishi and Intel's next-generation factory automation systems
Intel and Mitsubishi have entered into a collaborative agreement to develop next-gen factory automation systems with the IoT technologies. The pilot project was unfolded at Intel's backend manufacturing facility in Malaysia.
Intel used the C Controller IoT gateway from Mitsubishi Electric's iQ-Platform (based on the Intel Atom processor) to securely gather and aggregate data from their Cloudera Enterprise hosted analytics server using the open source R statistics language.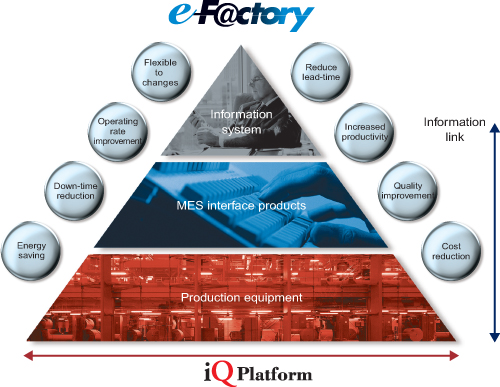 The solution resulted in:
Savings of up to $9 million through cost avoidance and improved decision making
Improved equipment component uptime
Increased yield and productivity
Reduced component failure
Better predictive maintenance
Increased energy savings
"Through this collaboration and pilot with Mitsubishi Electric, we will bring the know-how, assets and technology of both companies to develop next-generation factory automation systems with predictive analytic capabilities," says Robin Martin, vice president and general manager of Intel's Assembly and Test Group. "This will allow other companies to reap the benefits of the Internet of Things for factory operations."