Intersog has just become a media partner of research2guidance, a Germany-based research and consultancy company specialized in mobile app economy. For the 6th consecutive year, research2guidance is launching its annual Global mHealth App Developer Economics study that aims to explore some of the most burning questions in mobile health apps space and to consider how they might be tackled in the years to come. Last year, the study was supported by over 5,000 IT and eHealth industry experts and practitioners which makes it the largest annual study on the global mHealth app market ever.
From today on, we're inviting all interested stakeholders that have at least some experience with building / marketing mobile health applications to participate in the 2016 mHealth App Developer Economics survey to share your own opinions about what's proving to be successful today and what might prove to be successful in the near future as far as mobile health apps are concerned.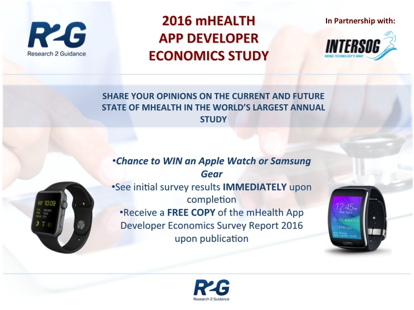 Check out a related article:
In particular, we need your feedback on the following key questions:
Which business models are most effective to succeed in mHealth today?
Which app categories are most successful in meeting the demands of both patients and doctors and investors?
What does the relationship between Health Insurers and mHealth look like in 2016?
What's in it for you to participate in the survey?
You'll be immediately entered into our prize draw to win an Apple Watch or Samsung Gear
You'll have a chance to view initial interim results right after completing the survey
You'll get a free copy of the mHealth App Developer Economics 2016 report
As of Q4 2015, the total number of mobile health app downloads reached 3 billion worldwide making the mHealth industry worth of $10.2 billion. However, despite such popularity, only few mHealth developers were able to successfully monetize their mHealth solutions. Also, only few apps were effectively integrated with patient pathways or daily routine of healthcare professionals, while most of healthcare providers traditionally remained cautious about entering the mobile health space.
Let's increase this year' study sample and see how mHealth app developers are doing in 2016 and what challenges and opportunities will be facing them this year.
Take me to the survey