We spent the whole last week exhibiting at Interop Las Vegas, and even though we were very busy at our booth, we did manage to attend some conference keynote sessions and get a sneak peek at what's going to be hot on the global tech market in 2014.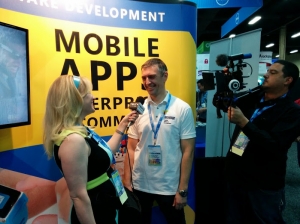 All keynote speakers / panelists from the leading companies such as Deloitte, HP or Cisco admitted that Cloud and Mobility were the two key game changers on the global technology scene, and spoke about how today's businesses could and should shape them.
Check out a related article:
Read more about mobile app development services.
Larry Quinlan, Deloitte's CIO, pointed to the importance of creating a culture of passion for technology and innovation among the IT employees and, in particular, stressed that mobile workforce should embrace this new culture, because "people really care about mobile". One of the biggest mistakes employers make is deciding what devices their workforce should use in the workplace. People want to have a certain level of control over technology they use and you should never force them to use what they don't like or don't want to use. As such, when planning your mobility strategy, make sure you offer your employees several options to choose from instead of forcing them to use devices you've bought in bulk (and thought your staff would want to use).
Got used to the term "Internet of Things"? Be ready for another buzzword - Internet of Everything, i.e. a new connected ecosystem where technology provides IT deliverables as Business-as-a-Service (the same way how Salesforce.com operates in the CRM ecosystem).
"We need a new model that is much more agile," said Cisco CIO Rebecca Jacoby. One example of such a model is a policy-driven Cloud architecture that provides IT workforce and administrators with control over programmability and, as a result, facilitates usage and re-usage of data centers and networking technologies, and supports fast-paced business environment in a more Agile way. These architectures will supposedly drive up employee productivity and flat the IT budgets for the employer. Jacoby also said that businesses that are not yet transitioning to the Cloud and are not getting ready to deliver Business-as-a-Service, are already behind in the Internet of Everything concept.
What was new to this year's Interop Las Vegas is the InformationWeek Elite 100 Award that honours U.S. most innovative users of business technology. We at Intersog are happy that our business partner CDW made it to Elite 100 this year and we, with out software solutions, might contribute to their recognition as a top technology innovator.
Now let's see how the Elite 100 companies are going to disrupt the world of technology during 2014:
Check out a related article:
Slightly less than 50% of the companies cite widespread use of corporate mobile applications by their workforce, while 21% cite limited use of corporate mobility
Thirty-four percent of the companies report using location-based services connected to their mobile business apps
In order to innovate throughout 2014,

75% of Elite 100 companies are planning to use data analytics to make savvier business decisions;
48% are going to launch new IT-led products / services for customers;
46% are planning to make business processes more efficient;
21% will focus on lowering down their IT or business costs / reducing budgets

Sixty-eight percent of tech innovators are already doing predictive analysis of revenue, while 24% are pilot testing it or planning to do so this year. Fifty-seven percent are already doing predictive analysis for staffing and production.
What-if kinds of tools are going to be put to the hands of operations management, software developers, product owners, data scientists and marketers by Elite 100 companies this year with an intention to minimize / eliminate involvement of IT departments into the analytical work / problem solving - 52% of companies already do so!
For more media coverage, please follow this link. Also, check out a video interview with our CEO Igor Fedulov shot by Your Biz Live TV (YBLTV) at Interop.