I've just stumbled upon quite an interesting study on mobile healthcare app developer economics 2014 and thought it might be worthwhile to share its key takeaways with a broader audience.
Whereas mobile health (aka mHealth or m-health) isn't yet a hot topic at mobile thought leader events and conferences, it did progress along the industry hype cycle in the past 2 years, and has already entered the phase of commercialization. See for yourself:
As of Q1 2014, the number of mHealth apps launched to iTunes and Google Play has more than doubled compared to the same period 2 years ago and reached over 100,000 apps
In 2013, mHealth market revenue reached USD 2.4 billion, and is projected to grow to USD 26 billion by 2017, accounting for 0.5% share of the global healthcare market
Today, 69% of mobile healthcare app publishers make money from service focused apps, i.e. those that facilitate interaction between medical staff and/or physicians with patients and/or individuals interested in healthcare / fitness (e.g. remote consultation, patient decision aid, etc).
In mobile health, there're two most popular types of apps monetization: 1) subscriptions, and 2) pay-per-use.
mHealth app developers target their products at 3 key audiences: 1) chronically ill patients - 31%, 2) people interested in healthcare and/or fitness - 28%, and physicians - 14%.
In 2013, 82% of app publishers generated less than 50,000 mHealth app downloads, and 5% - more than 500,000 downloads.
The distinguishing features of successful mHealth app developers are:

Large apps portfolio
Experience in the market
Available app development tools and methodologies as well as monitoring processes
Focus on iOS app development

Today, fitness apps constitute category with the highest business potential (see image below):
Read more about mobile app development.
Check out a related article: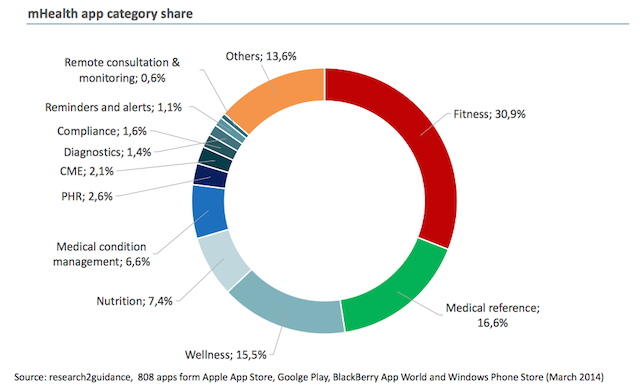 Geography-wise, USA, UK, Japan and Germany provide the highest business potential for mHealth applications these days
Now let's wrap up what's expected of mHealth apps development in the near future:
In the next 5 years, mobile health apps development will be driven by:

Deeper penetration of capable devices - 58%
Patient / physician demand - 38%

Top 3 show-stoppers are:

Lack of data security - 34%
Lack of eHealthcare standards - 30%
Poor apps discoverability - 29%

In the near future, mHealth apps are expected to help reduce significantly non-compliance and hospital readmission costs
In 5 years, remote monitoring (53%) and medical consultation apps (38%) are expected to make categories with the highest business potential
I recommend you to check out mHealth App Developer Economics 2014 for more interesting research findings.
Source: research2guidance.com