The main Think Tank for Ukrainian techies, dou.ua, has just published its updates on their regular software engineer salary research, and I believe it's worthwhile to share them with an English-speaking community. The recent survey was conducted between 20 December 2013 and 31 January 2014, so the information is very up-to-date.
To start with, let's look at what programming languages are most frequently used among software developers in Ukraine: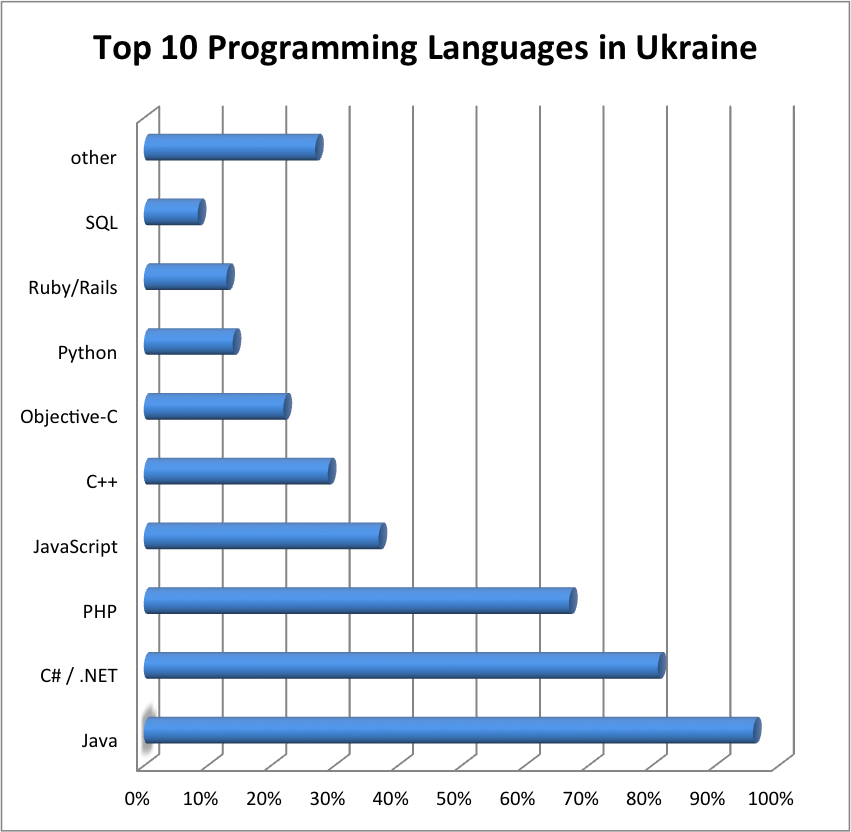 Read my previous blog post on the Programming Languages Ranking to see how the Global Top 10 compares to the Ukrainian one.
Check out a related article:
Regarding the average software engineer salary across Ukrainian cities (Kyiv, Kharkiv, Odesa, Lviv, Dnipropetrovsk, and smaller ones), system architects seem to be the highest-paid IT caste, followed by senior PMs and Tech Leads.
In Ukraine, a sound system architect will cost you, on average, as much as a Head of Software Engineering - around $50,000 per annum. In comparison, a Head of Software Development costs an average of $108,000, and a system architect costs an average of $102,000 per annum in the United States (source: PayScale.Com).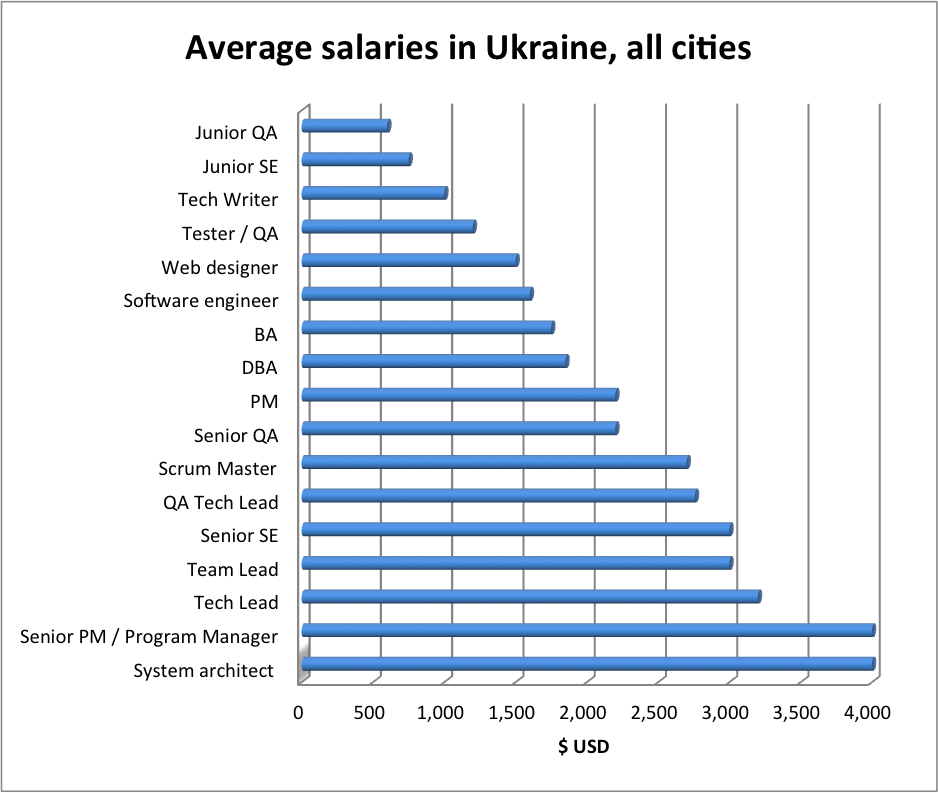 Ukrainian software developers are most expensive in Kyiv, Ukraine's capital city (probably just like anywhere else in the world). Let's see how software developer salaries compare in Kyiv and Odesa, one of Ukraine's most significant IT pools.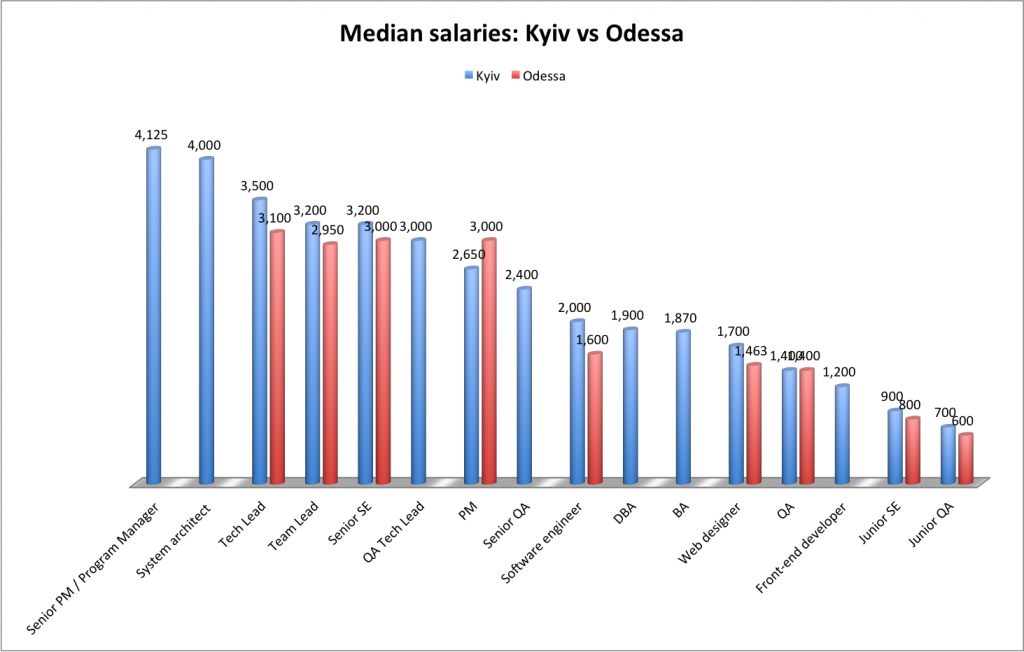 As seen from the picture above, the computer programmer salary difference between these two cities makes, on average, $100 - $200 for a specialist with a similar background, experience, and skill set.
Software engineering salaries for tech management roles in Ukraine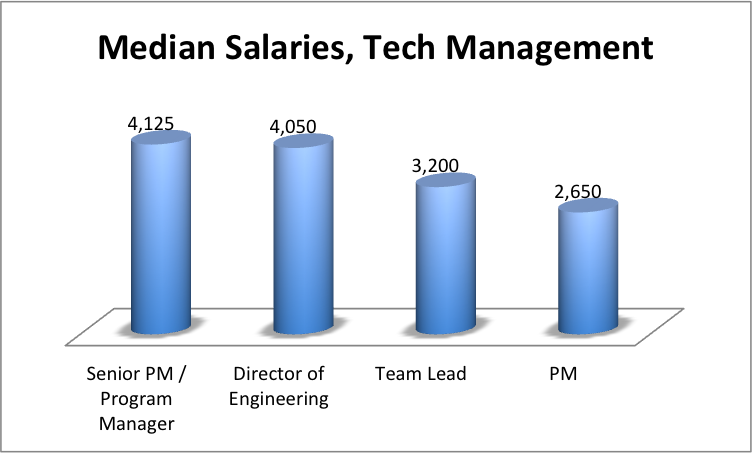 Now let's see what programming languages are most rewarding income-wise: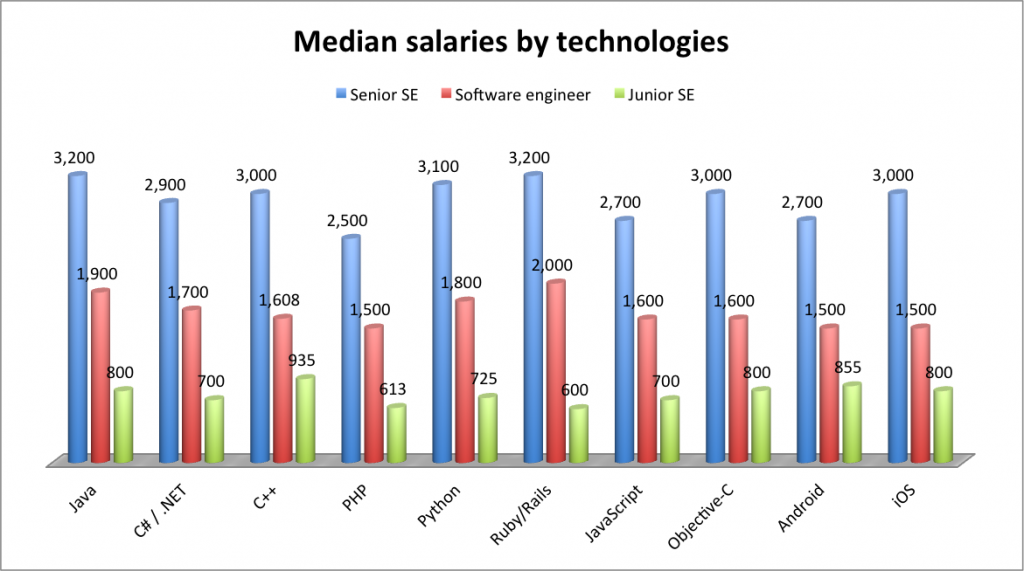 The below picture shows how Ukrainian computer programmer salaries differ by industries and domains:
Check out a related article: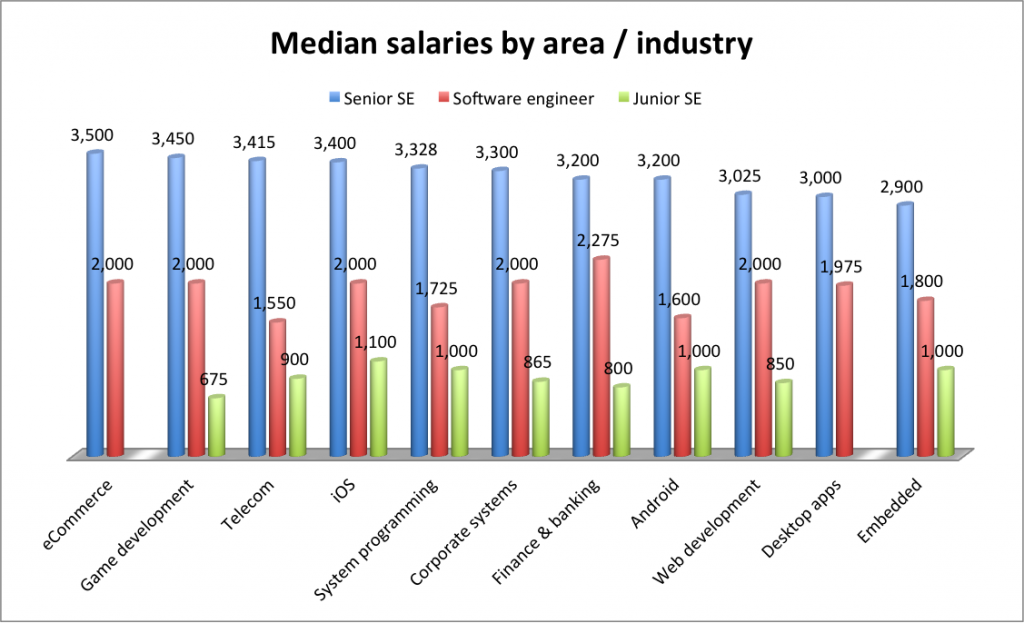 Ukrainian senior techies can really feel good in any industry/domain, while juniors can earn the most in mobile app development, embedded development, and system programming.
Since demand for QA and testing skills is high as ever today (especially in mobile and game development areas), I just can't help mentioning their median software developer salary: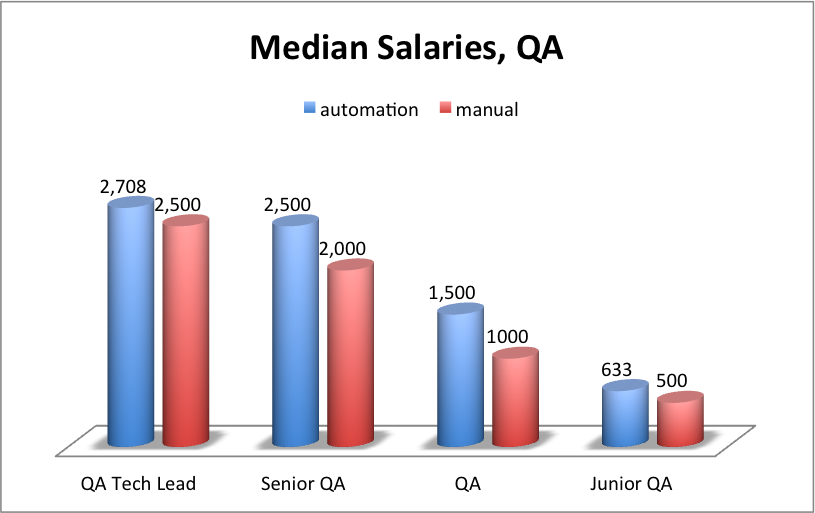 The last picture shows what Ukrainians are paid when they choose to work for a certain company type: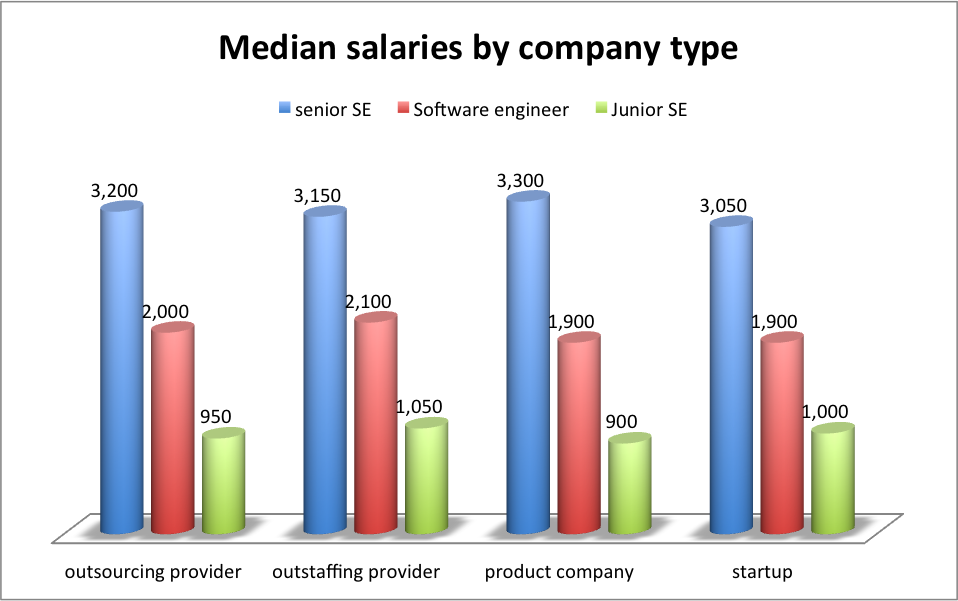 As seen from the picture above, it doesn't really matter for Ukrainian IT guys where to work in terms of salary offer: the four company types surveyed are ready to pay similar computer engineering salaries to people depending on their seniority level and professional maturity.
However, as one of the 2013 surveys showed, Ukrainian software developers are most loyal to startups because startups offer more exciting and challenging projects and a unique corporate environment that is very unlikely to be found in other company types. Read more about this in my older blog post.
Read more about programmer salaries in Ukraine in 2015.
The survey I've referred to in this post polled over 5,000 Ukrainian IT specialists, of whom 89% were men, 83% had higher science-technology-engineering-math (STEM) education, and 9% were IT students. The median age of an IT guy in Ukraine is 26 years. All salaries shown above are net, i.e., excluding taxes (In Ukrainian IT, we only pay 5% income tax and a social tax that varies from quarter to quarter and makes around $50 a month, that's it!).
Sources: douua.org, 2014; payscale.com, 2014. Featured picture source - InformationWeek.
Want to get future updates on Ukrainian IT salaries? Please subscribe to our blog on your right.