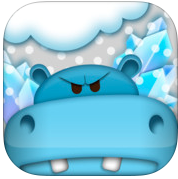 Want to mobile app development similar to Angry Birds? Buying  an existing game source code and re-skinning it may save you a lot of time, efforts and money needed to be invested in the game development. Right now we have an iOS arcade adventure game source code for sale, so why not consider this option?
Read more about ios app development in our solutions.
Our Angry Hippo is an entertaining package composed of vibrantly rendered cartoon imagery, fast paced action, and strategically minded gameplay.
Check out a related article:
What's in it for you?
Re-skin Angry Hippo into a fun and addictive game similar to Angry Birds (just change the name,  graphics, and sounds)
60 unique unlocked game levels to never get bored
Reward your players after every 10 won levels
Powerful realistic physics engine
Game Score statistics and history
Universal app for iPhone and iPad
Fully compatible with the latest versions of Xcode 5.0.2 and  Сocos2D. The Xcode project builds successfully on the new iPhone 5 with iOS 7.0.3
Dynamic 2D graphics
Opportunity to buy  1-level passes via in-app purchasing
Read more about android app development in our solutions.
Interested? Read project details / buy  here or here.