Internet of Things (IoT) remains one of the hottest IT topics in 2015 with many experts from the variety of industries, from software development consultants and Cloud service providers to academics and chipset manufacturers, having shared their vision of where IoT is now and where it's heading in the future.
I've taken some time to evaluate their feedback and explore what the latest IoT studies have to say about the future evolution of IoT to identify both the key drivers of and the biggest inhibitors to the market adoption of the Industrial IoT (IIoT) concept.
Is IoT still a puzzle you're trying to put together?
REQUEST OUR FREE 'IOT IN A NUTSHELL' WHITE PAPER!
Here're my takeaways from the recently published IoT Outlook Report by Telecoms.Com that is based on responses from nearly 1,000 IT professionals and delves into how enterprises will stand to gain as IoT reaches its maturity and goes mainstream.
What IT Professionals Primarily Associate IoT With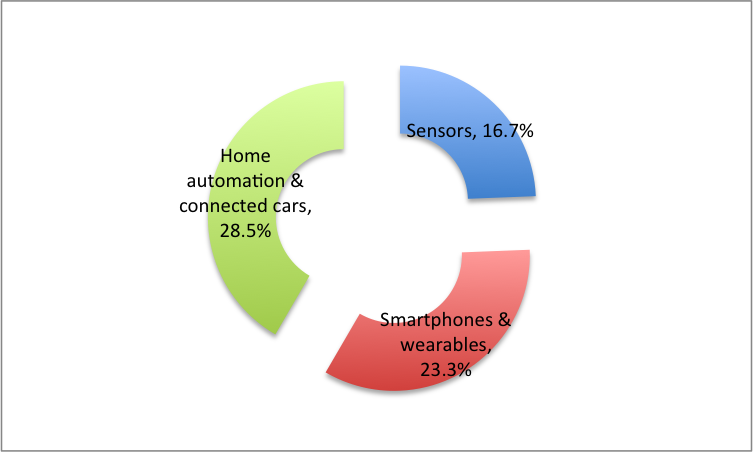 As seen from the image above, most of IT professionals surveyed primarily associate IoT with smart houses and connected cars, smartphones and wearable gadgets, and sensors. Smart cities, Big Data, RFID and tracking technology are associated with the evolution of IoT by only 15.5%, 8.4% and 2.1% of respondents respectively.
Surprisingly and contrary to what's pictured in the mainstream media, only 5.5% of IT professionals actually believe IoT is primarily associated with domestic application of machine-to-machine (M2M) communications (e.g. smart fridges and talking toasters).
When further asked to identify services that will be most lucrative in the next 12 months, over 50% of respondents pointed to IIoT, i.e. smart equipment controllers, energy efficiency and other outcome-based economy solutions, etc.
Check out a related article:
The Most Lucrative IoT Services In The Short Term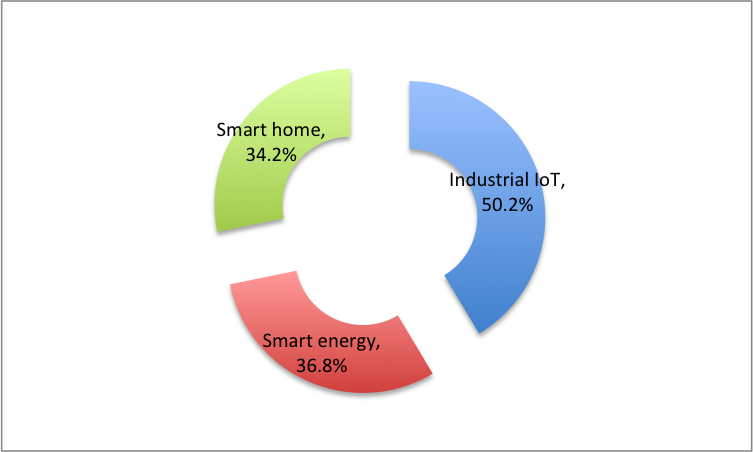 When asked how IoT revenues will contribute to company's overall revenue in 2016, 59% of respondents replied with "less than 10%".
Revenue Percentiles To Be Directly Attributed To IoT In 2016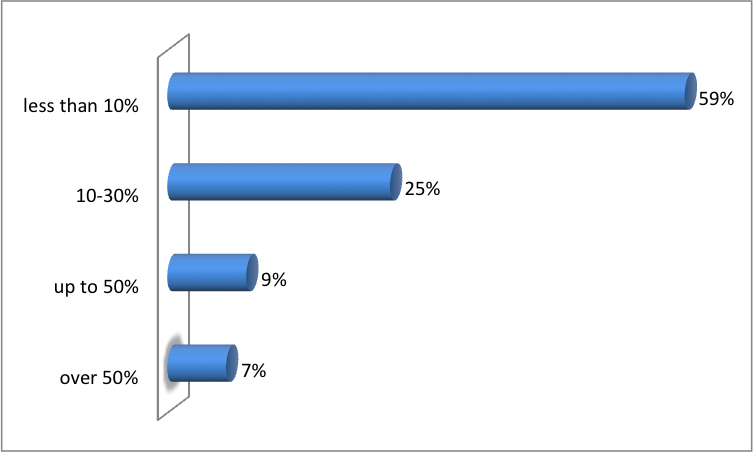 Most of IT professionals surveyed believe security, lack of platforms standardization and technology / device immaturity are the top 3 inhibitors to the IoT development.
Top 5 Inhibitors To The IoT Evolution As Of 2015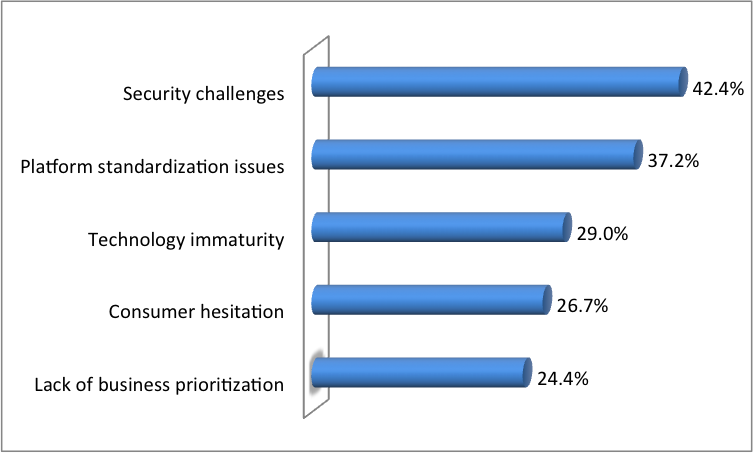 Further, the research finds that only 16.7% of technology service providers feel they're ready to monetize IoT now versus almost 25% of those that will be ready in 2016. This finding is attributed to the lack of security in the IoT stack!
As many as 77% of respondents view IoT security as a corporate need that should be assessed very carefully prior to kicking off with the IoT development project. Nearly 45% of respondents consider 10% to 40% of all IoT data to be highly sensitive, while 33.8% suggest highly sensitive information could be carried by anything upwards of 40% of the entire IoT data.
Do you need professional assistance building your IoT solution?
SIGN UP FOR INTERSOG WORKSHOP NOW!
According to the survey, nearly 24% of software development service providers are targeting 2020 for delivering ultimately secured IoT solutions, while less than 17% of providers will be ready to deliver fully secured IoT services in 2016!
Now let's see whether software developers have been sold on Cloud for the IoT projects yet.
Almost 38% of developers believe analytics for IoT data analysis will be the most useful service when it comes to the Cloud-based offerings.
Where Cloud-Based Services Will Be Most Useful In IoT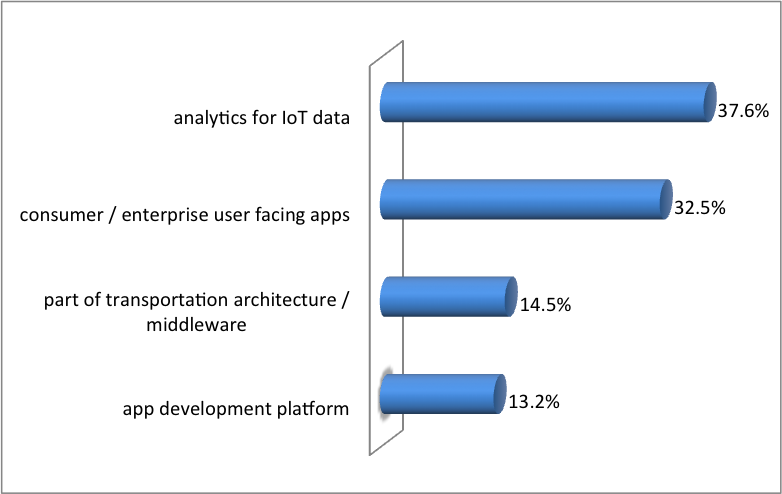 When asked about chief obstacles that prevent service providers from delivering successful Cloud-based IoT solutions to end users, almost 50% of organizations cited "immaturity of the IoT industry standards" and cumulative 60% replied with "lack of consumer awareness about the IoT" and "lack of employee skills / knowledge" to handle Cloud-based IoT.
Further, roughly 63% of respondents believe Cloud-based apps are more suited to IoT services than on-premise, while 70% believe private cloud platforms had a better chance to power IoT services because of data privacy concerns.
When asked to rate their extend of agreement with the given statements, most of respondents strongly agreed with the following:
79% agree that the Cloud will require significant changes to the way IoT apps are architected and developed
68% agree IoT app performance will struggle on public Cloud solutions due to the variable demand of shared resources
69% agree that modern Cloud Data Centers aren't equipped properly to handle the volumes of IoT data
92% agree that building IoT apps in the Cloud will make it easier to connect up IoT sensors with other Cloud-based services
When it comes to the IoT monetization, the vast majority of survey participants say IoT in general and Industrial IoT (IIoT) in particular is focussed primarily on improving the efficiency of existing corporate assets.
IoT Monetization Potential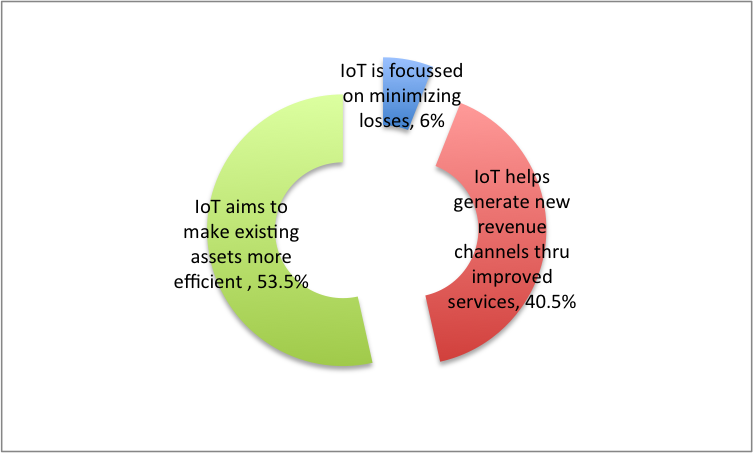 The survey findings allow us to draw pretty thought-provoking conclusions about the future of IIoT application development:
IT professionals on service providers' side primarily associate IoT with industrial use cases rather than consumer facing application scenarios
In 2016 and beyond, app development service providers will be challenged to access and make use of real-time data analysis to help IoT unveil its full potential
As more apps will be built to manage IoT, existing infrastructures will have to undergo major changes to enable better data privacy, scalability and reliability of IoT solutions
Comprehensive SLAs will be critical to ensure service providers are able to match network requirements associated with IoT
IoT applications will most like take a path of monetization through value-added services
IoT will not go mainstream until businesses and consumers have a sufficient degree of confidence in data security
While IoT data security remains a debate, data virtualization and real-time analytics will play a pivotal role in the IoT market adoption
Data source: Telecoms.Com, 2015
And what about you - are you ready to harness the power of IoT and bring added value to your clients and end users in 2016?