When Google announced their new Android-based OS for wearables a week ago, it was unclear why Google Glass didn't get to the list of Google Wear supported gadgets. Google Glass is actually based on Android Ice Cream Sandwich, but what can become a major game changer for it is a new app introduced just recently by Layar, an augmented reality (AR) app maker (that, by the way, developed its first AR app for smartphones in Ukraine a few years back).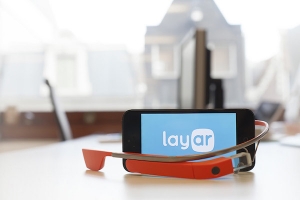 The Layar app adds an AR layer to the Google Glass and makes it possible to display any digital content over a physical object: for instance, it can show a video ad to a Google Glass user reading an article in a print magazine, or a movie trailer to a guy looking at the movie poster through Google Glass.
Check out a related article:
Read more about mobile app development services.
Once the app is installed via side loading, the user speaks the command, "OK Glass, scan this," and the gadget will start scanning an image / object and matching it against Layar's 200,000+ interactive print pages, and 6,000 location-based Geo Layers. This interactive print concept easily turns any static content into "live" content enhanced with video, images, buy and sharing links, immersive 3D experiences, etc.
Yet, since the Layar app was developed without Google Glass Mirror API, Glass users will have to download it from an external source.
When blended with AR, Google Glass will provide more exciting opportunities to both users and app developers who intend to design and deliver apps that would feel like 'first-class citizens' on Google Glass. And what do you think about AR potential for Google Glass in the consumer market? Is it really a level up for Glass usability?
Image courtesy of Layar