Last week Istanbul hosted the Global Webit Congress 2013, one of the planet's major IT events gathering over 8,000 attendees from 103 countries and featuring among speakers C-level execs from the world's most innovative companies including Yandex, Unilever, Lenovo, Facebook, Skype, BBC, etc.
For the 5th consecutive year the agenda was split into several parallel session streams focusing on:
Digital marketing & innovation
Leaders of the Future (digital startups)
eCommerce
Mobile
While major conference reports and highlights are yet to appear in mass media, let's sneak peek at some of the major trends of today's and future digital marketing and innovation landscape outlined at the event.
Check out a related article:

1. Mobile
In 2013, 75% of all sold gadgets globally were smartphones and their market share is seeing a staggering growth right now. According to Orange web executive Stephanie Hospital, if you don't have a mobile strategy today, you'll be out of business in 5-10 years. However, there's a delicious pie worth fighting for in a short term, too: mobile segment already accounts for 14,2% of the global marketing budgets (vs 8,5% in 2012), so it's pretty clear that mobile traffic will rule in the future.
2. Resurrection of classical digital advertising
Real-time bidding (RTB) technology has increased demand for display ads and demonstrated a 70% increase this year. According to a BBC top manager, the key challenge facing digital publishers today is an extended supply chain from a media company to content end users: agencies, sales houses and different technology platforms "eat" lion's share of margins.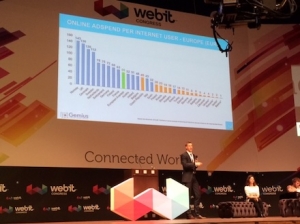 In Europe, Norway, UK and Denmark are leading the way in the digital ad market showing the highest online ad spend per Internet user: € 143, € 136 and € 120 accordingly. In Europe, an average ad spend per user is € 55.
3. Marketing paradigm has changed irreversibly
Marketers don't have to create messages and "inject" them into users "through their spinal cords" any more. Modern marketing tends to be inexpensive yet effective. Brand interaction and customer journey should be as seamless and easy as possible in all acquired and paid points of contact. Therefore it's a must for brands to go to social media and increase their visibility there. Also, brands should start investing more into adding mobile and digital strategies to their agenda and for this they may need to build own technology tools and channels to better interact with users. Examples of such tools are mobile apps, websites with responsive design, own Cloud apps, own solutions / technologies to analyze effectiveness of digital ad campaigns and process big data, etc.

4. Content migration to the digital space
This trend derives from the previous one. Brands able to generate high quality content and interact with their users in a real time will eventually win the war for clients. Content migrates from all of the traditional media channels such as TV, radio and print magazines to blogs, YouTube, Spotify and other digital outlets. Radio has already lost the battle: 56% of Americans use Pandora for listening to music versus only 16% of those listening to a local radio station. In the United States, users spend on average 40,3 minutes a day watching online video. Future business success of traditional media brands depends on how they will be able to adapt to / accept new game rules. Investing into digital technology now can be a good prerequisite of effective client acquisition in the future.
Check out a related article:
5. Big data and automated systems
In the United States, 30% of all digital ad budgets are spent with help of different automated systems. Brands able to collect, process and analyze massive user data such as purchasing history, demographic, contact data, etc have a strong competitive advantage over those that are still missing this opportunity.
As such, market for automated marketing intelligence platforms such as Aggregate Knowledge is being hectic and will most likely become a very lucrative digital marketing niche in the following months.
Source: ain.ua, pictures: ain.ua