As eHealth apps market has started showing signs of maturity in recent months, many custom mobile software development companies are expecting the rise in RFPs/RFQs received and are also challenged to offer innovative business models to engage with healthcare organizations and stakeholders (e.g. pharma, insurance, etc) in a much more efficient way.
However, mHealth products are very specific as they have to comply with HIPAA and other international and national medical and data privacy standards that are often more rigorous than those for non-healthcare solutions. While businesses are ready to invest in building mHealth products for healthcare professionals and patients, there're still hindrances at the policymaking level, i.e. not all governments are ready to catch up and invest in / set ground for healthcare mobility.
One of the biggest obstacles in the way of successful eHealth deployments globally is the missing standing orders from policymakers that would allow for smooth mHealth integrations with health insurance and treatment plans at clinics and hospitals. As estimated by the 2014 survey by research2guidance, there're already a few thousand apps listed under health and fitness related categories in the major app stores now. Most of them are general health and fitness apps that don't require strict compliance with data privacy and encryption regulations (e.g., apps that only track health related parameters and provide basic treatment information, i.e. have nothing to do with diagnosis, therapy and prescriptions and, thus, provide low value for patients or healthcare professionals).
Check out a related article:
Yet, there are robust mobile healthcare systems that are expensive to build and maintain and that provide the actual benefits to patients, medical organizations and employers with their ability to reduce healthcare cost, provide immediate video consulting with a professional doctor and in-depth treatment tracking and analysis, facilitate medical research, etc. Proofing and letting these apps go mainstream is tough, but possible, so let's compare and contrast some of the developed economies to identify slow and fast adopters of mobile health technology among them.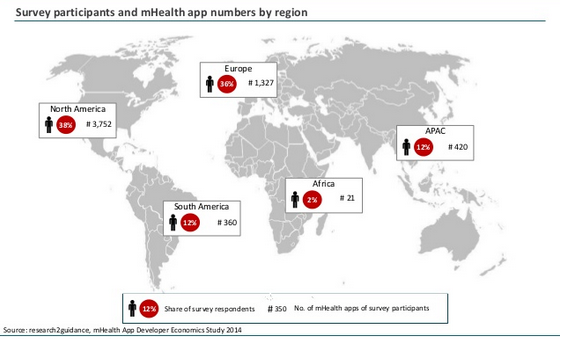 In Europe, creating and deploying mHealth agenda has been an important part of the European Commission's eEurope action plan developed back in 2002. The plan envisions an eHealth map to develop targeted policy templates focused at fostering widespread adoption of eHealth technologies within the European Union.
As seen in the image below, EU's Top 3 countries by eHealth adoption are Denmark, Finland and Spain. It's interesting to note that Norway, although not even listed in Top 10 nations, makes important steps in mobilizing their entire healthcare system and using mobility to drive more effective healthcare related decisions.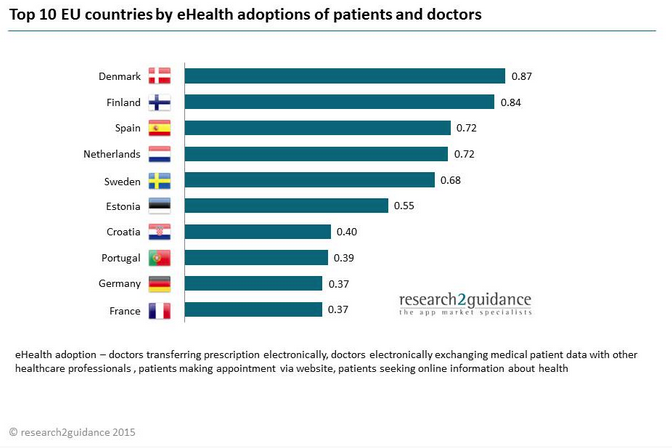 This year, the UK's National Health Service (NHS) is planning to introduce a new Kitemark for ehealth apps scheme where apps will be accredited with the NHS logo and included in the approved lists of medical apps doctors can recommend to patients. A Kitemark is a quality certification service owned and operated by the British Standards Institution. For mobile health apps developers it means their app will be scrutinized by dozens of health professionals, reviewed for data credibility and usability quality, checked against and compared to other apps. To get featured in the NHS apps library and recommended by doctors or medical researchers, eHealth apps will need to have unsurpassed look and feel and provide only verified and highly protected data. It's a new challenge apps developers will have to overcome to have their solutions go mainstream in the healthcare world.
Check out a related article:
In the United States, iMedicalApps wants to take it further and launch platform to enable physicians to prescribe the right apps to the right patients. However, according to the 2014 survey of U.S. physicians, 42% of doctors said they wouldn't prescribe any apps to patients because of the lack of regulatory oversight.
In North America, although the number of eHealth apps available in the app stores more than doubles the EU figure (3,752 vs 1,327 apps), most of them are only optimized for the internal U.S. market and don't work properly overseas. We've recently recorded a podcast with Dr. Charles Butler, Founder and CEO of the world's first free market telemedicine platform. Sign up below to get an alert once we've published it on our website and learn more about current state of affairs on the U.S. eHealth scene and why mobile health will soon kill traditional approaches towards healthcare.
Developed countries and their mobile health experiences show that eHealth solutions are really difficult to implement unless there is a unification of expectations and agreement on directions and priorities at the state level.
And what's your take on this? Do you believe in this whole "Doctor, prescribe me an app" concept?