Ukrainian anonymous IT job search site jinni.co has recently published their update on the Ukrainian software developer salaries and general IT hiring trends as of September 2014, and we traditionally provide the English version of this report.
So, according to jinni.co, the most in-demand technologies /skills in Ukraine are still PHP, .NET and C# as well as QA and testing. Compared to the same period last year, the average Ukrainian software developer salaries have dropped 10-15% in Q3 2014. Explore new mobile application development in Chicago.
Now let's review the details below.
Check out a related article:
Fig. 1: Most sought-after technologies / skills in Ukraine (Sept. 2014)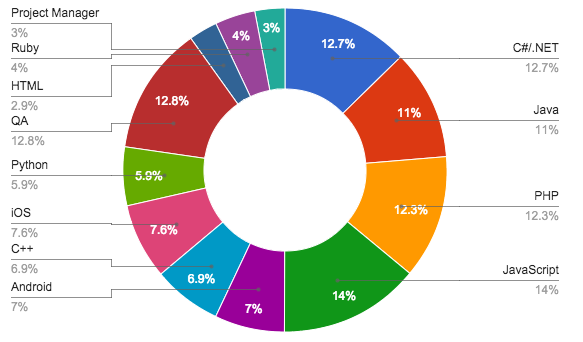 Compared to Q2 2014, iOS has almost doubled its search rank from 4.8% to around 8%, and QA has seen a staggering increase from 4% to almost 13%!
Fig. 2: Average salaries vs pokes per candidate (2013 vs 2014)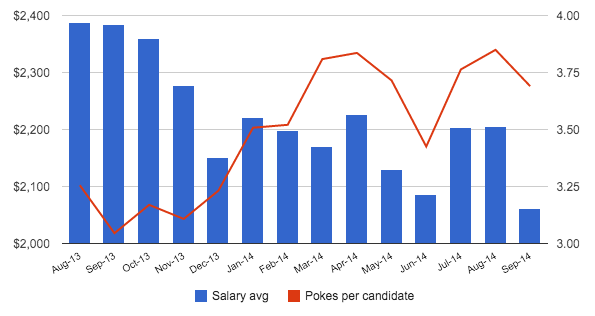 Despite a clear drop in the Ukrainian average software developer salary, pokes per one candidate have increased from 3 to almost 4 in September 2014.
Fig. 3 & 4: Average Salaries by Technologies (2013 vs 2014)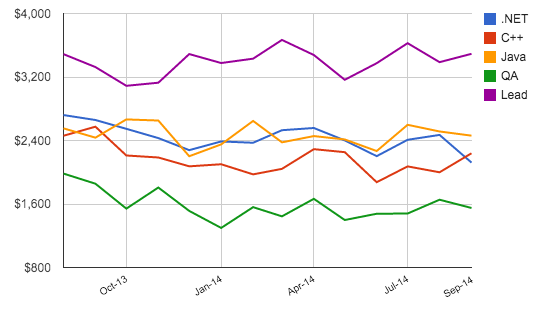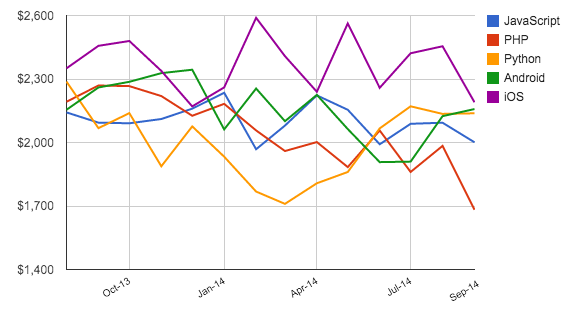 As of September 2014, the average software developer salary in Ukraine (gross) makes $2,000 - $2,500 per month, or $26,000 - $30,000 per annum. Let's see how it compares to the average IT salaries in the United States and EU.
Check out a related article:
Fig. 5: Average Software Developer Salary in Ukraine vs USA and EU (September 2014)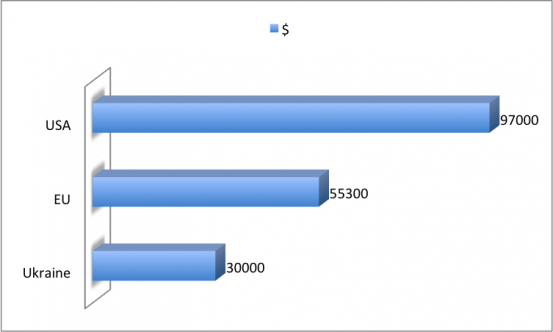 Want to get detailed Ukrainian IT Salaries Report 2014 with breakdown by technologies, seniority levels, and location? Contact us to request it.