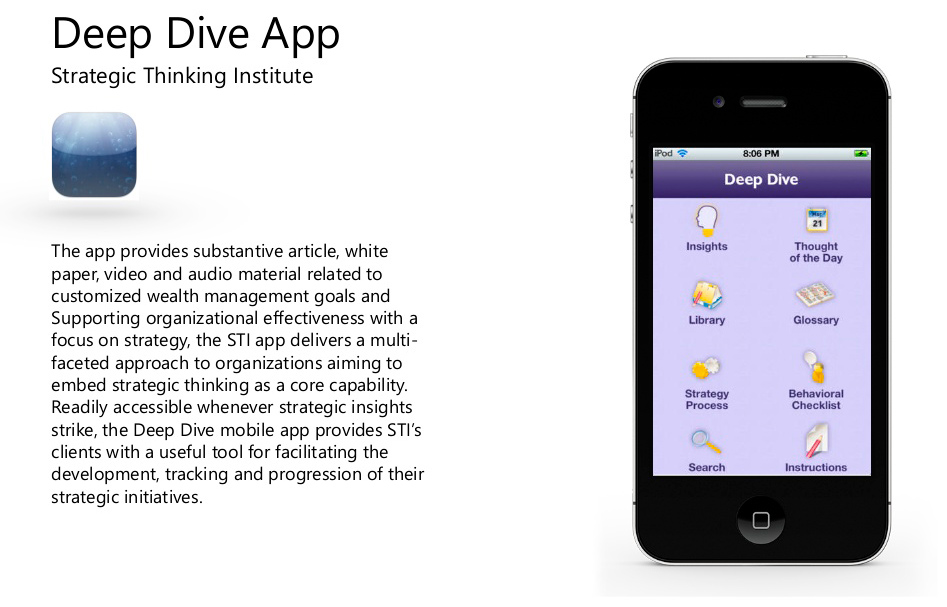 Client Goal
STI caters to Fortune 500 clients interested in improving their strategic thought process, strategic analysis and strategy initiatives. STI provides professional services in strategy training seminars, personal coaching, strategic planning, books, videos and industry expertise with keynote speeches at national events. The goal was to create an highly available mechanism for advanced education and training, as well as the ability to respond with action items and recorded insights. They also wanted to augment marketing with a sharing function for Facebook and Twitter that allow users to easily post about
Deep Dive
mobile. In addition, they had the challenging objective of keeping the app only available to corporate clients, but still deployed and available thru the main app stores.
Features
The features in the 
mobile application development
 to compliment the training sessions, seminars, books and other multi-media elements available from STI. The app includes a Strategy Discovery tool for reviewing the main process steps, including a checklist function to capture process completion. It also includes: an Insights module that allows users to record audio or text notes and categorize the ideas, a Thought of the Day section for a daily snapshot of useful tips, the Library function which houses videos, audios files and articles, a Glossary of terms, a Behavioral Checklist for assessing and improving corporate culture, and a Search function that includes all app content. The users can also access app instructions and contact STI directly through the app or Share app highlights through Facebook and Twitter. We also built a custom web portal for managing and distributing custom invitation codes for each user. The website lets shows if the users have utilized the invite code to download the app and allows STI to manage the user base.
Tools/Platform
HTML5, HTML, Java script, CSS, PHP, MySQL, PhoneGap, Twitter API, Facebook API
Benefits
STI is able to bring exceptional value with comprehensive, complimentary programs and services including their new mobile app. The app aligns with other training tools and provides unprecedented availability of the main concepts, guidelines and study tools. Users can integrate action items and next steps with the usage of the calendar, recording and sharing functions. The extra marketing channel and lead generation are a serendipitous outcome!